by Blair White
Angela Arthur has been an integral part of Arthur Farms for decades. From raising their four children on the farm to having side jobs to provide financial support, she serves as a stronghold for her cotton-farming family. Her husband Lloyd even credits her with being the reason he gets out of bed every morning.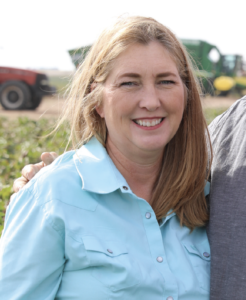 "When Lloyd was planting, I had a whole truckload of kids," she said. "We would haul seed for him, and we had buckets with toy tractors, and the kids would play in the dirt while I sat in the field and waited for the call that daddy needed something. My oldest daughter would ride in the module builder with me. The employees would hoist her up in a bassinet. She took naps to the roar of the module builder motor. If it was nap time for the boys, there's no way they could sleep in the builder, so they'd get in the cotton stripper with daddy and ride and fall asleep." 
Supporting her husband and raising her children on the farm are among Arthur's many contributions to the industry – inspiring the next generation while helping keep the current one working at full speed. Her support of her husband's penchant for innovation and his business is unparalleled, and she recognizes its importance just as much as he does. 
"Farming is a 24-7 job," she said. "It's not a job where at five o'clock you can shut down your tractor and go in the house. It's constant work. Those innovations take time; they take effort. It seems like farming involves a lot more than just getting out there in the field and making a crop. It takes a lot of other jobs or knowledge to make that crop successful. A farmer has to be a businessman. If you don't stay on top of your business from the very start of your season, you're going to find in September or October that you should have done a better job of managing that in-between time. If you can't take care of that type of business, you aren't going to make it." 
Despite the challenges, she said she would not trade this way of life for any other. She is most proud of how her children turned out. They contribute to the industry in many beneficial ways even though they have not returned home to farm. The oldest son, David, is an engineer for Lummus Corporation. Brady, the second oldest, is obtaining his Ph. D. in agronomy and entomology from Texas A&M University. MaKayla is a legislative director at the Texas House of Representatives, and Jadeyn is a member of the inaugural class of the Texas Tech School of Veterinary Medicine. 
"One thing that I am very proud of, or that I think is impressive, is that all my kids love farming," she said. "They're still agriculturists. They're still promoting it; they still have that faith or feeling deep down about how important agriculture is. I'm proud of the fact that they all worked hard, and they've all gone to school. They all want to have some kind of importance in this world." 
The work of a woman in agriculture is never really done. The unknowns of each crop year can make it challenging to keep the faith, but that is what Arthur depends on the most from her perspective as a wife and mother. 
"A farmer's wife lives on faith," she said with glistening eyes. "Your whole existence is faith. God, is this what you wanted from me? Having your children grow up on the farm takes faith. Sometimes when you see the crop going bad, you think, 'Is this the right thing?' and then you think that God did not put me here in this place, and he did not bring all of these things together for nothing. Putting that faith in him gets you through." 
It is said that faith as small as a mustard seed can move mountains, but faith as strong as a farm wife can surely do much more.