By Sarah Hossain
Customers' Perception of Denim Mill Changing
After years of being known only as a manufacturer of basic, core denim, American Cotton Growers (ACG) is turning heads among its customers based on responses to the latest product offering. It is the result of the Textile Division's strategic plan and represents a milestone for the mill's product development efforts.
ACG's fall 2007 line, comprised of almost 30 new, proprietary styles, was first shown to customers during the summer of 2006. It was one of the largest seasonal line introductions and also one of the most successful, according to Jack Mathews, PCCA's vice president of fabric sales and product development.
"The fall 07 line was a major undertaking for our folks at Littlefield, says Mathews. Our product offering included new fabric construction made from new slub yarn patterns in a wide range of dye shades. Since our summer showings, we have been able to convert this into a significant number of adoptions from a broad range of customers," he adds.
"It's clear that we had the right looks at the right time and at the right price. We have booked a substantial amount of fall 07 value-added denim business for the first quarter of 2007, and the margins on these new lines are better than those of basic, core denim," Mathews says. ACG expects the volume of value-added business to continue into the second quarter. In previous years and at the request of its customers, ACG products often were a replica of other denim manufacturers styles, a process known as counter-sourcing in the textile industry.
"The results of our fall 07 line represent a high point in our efforts to change how we are perceived by our customers," Mathews explains. "As they say in advertising and public relations, 'perception is reality', and for too long we were perceived as a supplier of core denim with limited value-added capability." The change in perception opens the door to new customers and markets and brings new opportunities with existing customers.
"The more successful we are with development of our own value-added line, the less dependent we will be on basic, open-end denim and counter-sourced products," Mathews continues. Consequently, ACG personnel already have developed 22 new value-added styles for the spring 2008 line; building on the success of the fall 07 offerings. Mathews and his sales team will begin showing the spring 08 line in January.
Because customers today are demanding denim with "character," most of the styles ACG now sells are made from either faux ring (Amsler open-end) or ring spun yarn. These styles contain slub yarn according to the specific needs of each customer. Jerry Jones, one of ACGs denim sales representatives, says the new lines contain very little smooth open-end yarn.
"More and more customers are getting away from basic denim containing smooth open-end yarn," he says. "They want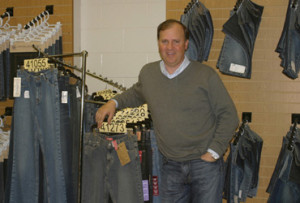 denim with more character and Amsler slubbing devices on our open-end spinning frames make it possible for the denim to have different types of slubs depending on customers needs." Ryan Lupton, product development specialist, says ACG also has increased development of ring- spun products to be more competitive in the market.
"We have already begun receiving calls from potential new customers," Lupton says. The fall 07 line was so well received ACG now is building on that success with new dye shades and new developments with faux ring, ring and stretch fabrics, according to Jones. The spring 08 line will include two new dye shades; one light and one dark.
"Darker denim is in right now so our customers are keeping their washes dark with less destruction, as opposed to before when they washed them down until they were lighter with holes and tears," Jones says. "In other words, we are keeping some of the same construction and just changing dye shades. One reason the spring 08 line is smaller than the fall line is because the latter was so good we have fewer holes to fill as far as what our customers want." Larry Lundberg, product development manager at ACG, said the current line will fill in gaps where previous lines were lacking.
"We've got a lot of ring spun styles and more styles with stretch and character," he said.
In this business, you are only as good as your last season," Mathews says, "so it's critical that we continue to innovate and develop market-right, value- added denim fabrics. The only constant in this business is change, and it's the one place where we have an advantage over our lower-cost competitors in Asia and other parts of the world," he adds. "The time will come when we will produce little, if any, fabric that's made from all smooth open-end yarn. The key to success for ACG is to continue upgrading the product offerings and customer base so that our styles are in line with the type of value-added fabrics that will continue to be sourced in our hemisphere for years to come." Jones attributes much of the success of the new styles to the ACG employees in Littlefield.
"In the last two years, everyone at the plant has made an effort to upgrade our denim offerings. They've come up with great ideas and new ways to process the fashion-forward denim styles," he says.
"We have some good momentum coming off the fall 07 line, and it's very important that we keep it going and build on that success," Mathews concludes.