by Aubry Heinrich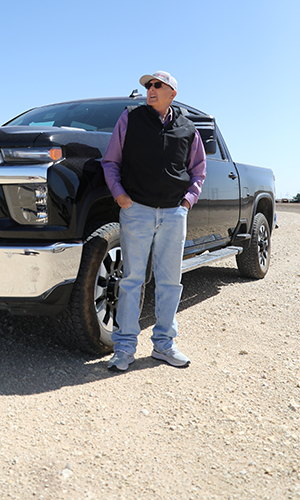 High input prices, a broken supply chain and little to no rain – there are endless reasons for farmers to throw in the towel. Who can blame them? At times, it can seem like everything and everyone is against them, even mother nature. The key to successful farming is resiliency. If farmers let their odds get the better of them each year, there would be no food or clothing. Who would society turn to if farmers said, "I can't do it any more?"
Jimmie Joy was born and raised in Artesia, New Mexico, and he started farming in 1966 when he was just 16 years old. What began as an FFA project for a couple of years in high school quickly became a lifetime profession. He went on to graduate from New Mexico State University in 1972 with a Bachelor of Science in General Agriculture, emphasizing agronomy.
"I think it has always been a part of me to farm," he said. "My dad and grandad farmed and all that. I mean, that's the life I pretty much knew. When I first started, I had quite a bit of support from a bachelor uncle, my dad and my mom. They encouraged me to kind of make my own way."
Joy is a fourth-generation farmer, and both sides of his family have a farming history in the Pecos Valley of New Mexico. After growing up exposed to the trials and tribulations of farming, he ultimately valued the freedom that came with it.
"You get the opportunity to work for yourself," he said. "I always felt like I was behind because I did most of it myself. But then, when you stop to think about it, it's all mine because I didn't have to share it with anybody else. That's pretty much the philosophy I've used through the years."
He continuously worked through his production obstacles with the same philosophy and a positive attitude, leading to a successful farming operation where he remained in charge.
He has now been farming for 56 years and experienced the many highs and lows of living this lifestyle. Most producers tend to the same area all their lives, commonly farming the land passed down for many generations. Joy has the unique perspective of farming the same ground he grew up on before moving to farm in a different climate.
Joy moved his family and his farming operation to Roscoe, Texas, in 1996. He, his wife, Kaye, and their three sons, Zachary, Tanner and Nikolas, began a new chapter of their lives, leaving generations of New Mexico farmland to his brother, Jack Joy.
"My wife was raised here in Roscoe. Her mom and dad lived here, and her dad farmed one of the farms that we now own," Joy said. "So, that's how we ended up in Roscoe. We needed to be closer to her parents."
The move was not without its differences. According to Joy, the water source is the main difference between farming cotton in the Pecos Valley of New Mexico and farming cotton in the Central Rolling Plains of Texas. When he moved his operation to Texas, the luxury of irrigation was not an option, meaning he could no longer complement what mother nature so sparingly provides to grow his crops.
"In New Mexico, we had irrigation, and we were blessed with pretty good quantities of water. Well, basically here in Texas, you pretty much start planting when we get the moisture. My basic knowledge of farming comes from my years out there," he explained. "I had farmed out there previously for 30 years, and it was quite a transition. On the property out there, we raised cotton and alfalfa hay primarily. Then we moved here and it was a whole different concept."
His confidence in his farming practices pushed him through the transition of farming in different conditions. No matter the problem, Joy was able to overcome it. When asked about the struggles he faced after moving, he explained that he relied on the information he already knew while learning Texas. Joy did not have to face his new land alone. For his family, working in the field was a family affair.
"I have three sons who helped me while in high school, and then they went off to college," he said. "We tried to teach them, you know, you have an opportunity when you farm and work for yourself. We taught them to do the job correctly and all that. If you tell somebody you're going to do something, you do it."
On their farm, Joy and his wife raised their sons to be honest and truthful, and they both set examples of tenacity and hard work.
"It's primarily been me and my wife, Kaye. She's gotten to be a pretty good hand. I started her out running the boll buggy or the module builder," he said. "Of course, you know good labor is hard to come by, so she has gotten pretty good. I was always running the stripper faster than she could run the boll buggy or the builder, but we always got it done."
They never let the trials of farming get the better of them. Joy is active in his community, having served on the Central Rolling Plains Co-op Gin Alternate Board and is a participating member of the Texas Farm Bureau.
This mindset of being able to accomplish anything holds steadfast for Joy and his family. He faced his biggest obstacle yet in 2020. Cancer is a trial of life that many know too well, and Jimmie Joy is no stranger to the diagnosis. On his 70th birthday, Joy was diagnosed with cancer and has faced several complications since.
Surgery to remove a brain tumor left Joy paralyzed on the right side of his body. After spending two weeks in the hospital and three weeks in a rehabilitation hospital, he was still working on reaching a new normal. Yet again, Joy did not let his odds get the better of him.
"When I left there, I was still in a wheelchair, but I hadn't regained most of my upper body. I went from using a wheelchair, to a walker and up to using a cane," he said with pride. "It has been a journey. I'm still doing a lot of that. I have many different complications from all the treatments, and radiation mainly has given me a lot to deal with."
A tremendous amount of physical therapy, many trips to Lubbock and Abilene for appointments and a great support system gave him back his ability to walk. Joy had several people, along with his family, encouraging him through his recovery. He found like-minded people in rehabilitation and a physical therapist who helped Joy regain his balance and never let his attitude stumble.
"It was one of those, you go in there, and she was always upbeat and all that. She said we don't use the words 'I can't do that,'" he explained. "I mean, she was just that way, so I really felt she helped me a lot."
Learning to walk again at the age of 70 is a fantastic display of Joy's tenacity. It is a testament to what is possible if "I can't do it" isn't an option. He is now able to walk into a room with the pride of knowing his hard work and persistence have paid off. The long days in physical therapy and rehabilitation have had a tremendous impact on Joy's perspective.
"I get down sometimes and frustrated. But, spend three weeks at Trust-Point and you will see 35-year-olds that have things a lot worse," he explained. "They are in a chair or motorized chair, and they're never going to get out of that. So, you know, I've become more thankful for what I can do, and that's a different outlook on things, I guess. I wouldn't say I don't worry about it, but I don't linger on what you can't do or what you can."
Joy was able to prepare for planting his 2020 crop. However, his diagnosis and treatments halted his plans, and he was unable to plant it in time. The farming community of Roscoe came together to help Joy maintain his farming operation while he was recovering.
"They told me after surgery it would take about six weeks to get back to normal," he said. "Well, it didn't work that way. I had a couple of neighbors that were really great. They came in and planted it."
With help from some area farmers, Joy is able to remain active in his farming operation today. He still frequents the Central Rolling Plains Co-op Gin to stop by, have a cup of coffee and check in on the progress being made during the season. He then makes his rounds to check his fields.
"I'm one of those guys that doesn't have a plan to retire," Joy said. "You just keep farming until you can't, I guess, and that's what I am doing."
He finds happiness in spending time with his four grandkids and showing them around his farms. To young children, it might seem like just a patch of dirt; however, as any farmer knows, it is much more than that. It is Joy's life work and a testament to how far he has come and what he has faced to get there.
Like any occupation, each year will have its trials. The biggest problem producers are facing today is the uncertainty of how outside events will affect their operations, Joy said. From high prices to labor shortages and everything in between, there are many repercussions from unrelated events farmers must be able to navigate.
"You don't think about how much things that go on will affect us," Joy explained. "I think it is a real big challenge. You know, it has been a real eye-opening experience."
From the blue jeans we wear to the food we eat at the dinner table, a farmer is responsible for making it possible. Producers must be tough and tenacious if they are going to make it in this world. There are many trials and tests ahead of them this year; however, letting the circumstances get the better of them is not in their blood. Much like Jimmie Joy, they must face their challenges head-on with confidence; it is possible to overcome.