By John Johnson
One of the vital and renewable resources found in the four states served by Plains Cotton Cooperative Association is our youth, and many programs exist to prepare them to be the leaders of tomorrow. One of those is FFA which sets them up for success beyond high school by preparing them to enter the workforce or pursue post-secondary education. The organization's core values of respect, responsibility and resilience have stood the test of time and remain as relevant today as they were when FFA was founded in 1929.
The process begins in high school with agricultural science classes that encompass much more than just farming and ranching because today's agriculture involves science, research, design, business principles, and marketing to name a few. FFA is where advanced classroom concepts, including  science, technology, engineering and math (STEM), come to life in the real world. FFA also is about inclusion, ethics, integrity, character, passion, excellence, service and community.
"Our youth represent the future of agriculture… the food, fiber and protein for a hungry world," Texas FFA Foundation Executive Director Aaron  Alejandro said. "Here in Texas, we have a record enrollment of almost 200,000 students in agricultural science courses, and almost 129,000 of them are members of Texas FFA. We strive to empower their dreams, provide scholarships, embolden leadership development and professional networks because it is the right thing to do." The Foundation reports 1,060 FFA chapters are in public and some private schools in Texas with 2,500 agricultural science teachers, 40 percent of whom are women.
One means of empowerment is financial support for students of agricultural science and FFA members. Each year, the Texas FFA and Texas FFA  Foundation facilitate the distribution of more than $2.3 million in scholarships thanks to the generosity of sponsors who believe in the organization's programs. The awards range from $1,000 to $20,000 from one-time prizes to four-year awards. Recipients are awarded based on their academic and FFA achievements as well as their performance during interviews. The Foundation also helps provide support to agricultural science educators.
"Being there for kids and having a meaningful impact is the reason our teachers work so hard, but sometimes the challenges can be overwhelming,"  Alejandro wrote in the Texas Lone Star, a publication of the Texas Association of School Boards in August 2018. "The impact these dedicated  professionals have on our youth is boundless, which is why the Texas FFA Foundation and Vocational Agriculture Teachers Association of Texas have partnered to find innovative ways to encourage our teachers."
"In addition to the annual summer Professional Development Conference planned and conducted by VATAT, The Texas FFA Foundation hosts an annual LEAD Experience, a groundbreaking weeklong traveling leadership event that focuses on leadership, education, agricultural science and professional  development from proven leaders in target areas," Alejandro wrote. In 2019, 36 teachers traveled more than 1,200 miles to 14 locations throughout the state during the week to hear from 45 presenters. During the event, the teachers had an opportunity to network with executives from Ford, La Quinta, DISH, McCoy's Building Supply, Texas Farm Bureau, Ducks Unlimited, CEV Multimedia, United Ag Coop and others.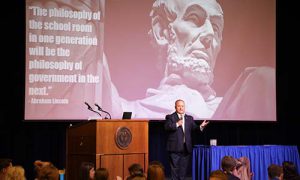 "We have to compete for the minds of students and teachers to benefit their communities and our interests in agriculture," Alejandro said. "The United Nations projects growing populations will require an 80 percent increase in food production by 2050, which must be accomplished with the same  amount of land we have today. The UN also says 70 percent of the increased production must come from technology that improves and enhances efficiency, which is why agriscience is so important. Science and technology developments engineered by tomorrow's thinkers can enable food producers to provide more high-quality products using fewer natural resources." Alejandro also notes social media has become the number one source of information about food.
"Pop culture icons like Lady Gaga, Brittney Spears and Justin Bieber have more twitter followers combined than the populations of five countries," he said. "This is why we need consumers, voters and legislators better informed about agriculture and support sound policy, and it starts with our students and teachers. Abraham Lincoln once said, 'the philosophy of the schoolroom in one generation will become the philosophy of government in the next.'"
When Alejandro was hired by the Texas FFA Foundation in 2000, the organization's total annual budget was $208,000. Today, the annual budget is $1 million, and supports scholarships, the state FFA convention, the Teachers Professional Development Conference and leadership development programs for students and agricultural science teachers.
The scholarships are announced at the state FFA convention, which is held each July. The event typically attracts more than 13,000 members and guests, making it the largest youth-led convention in Texas. This year, they celebrated the organization's 91st anniversary of making academic dreams a reality and empowering the students in agricultural science who will take the reins of leadership … they are ready for tomorrow … today.