By Hallie Bertrand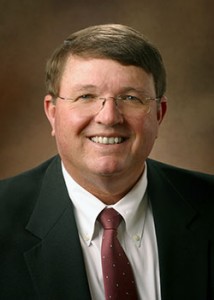 Texas Tech University's College of Agricultural Sciences and Natural Resources (CASNR) recognized PCCA Board Chairman Eddie Smith as a distinguished alumnus. The Distinguished Alumnus Awards honor alumni who have made significant contributions to society and whose accomplishments and careers have brought distinction to the college and to the professors associated with agriculture and natural resources.
Smith received the award on February 21 at the university's Merket Alumni Center along with five other recipients. Jane Piercy, Director of Development and External Relations at the college, said that the distinguished alumni provide evidence of the effectiveness of the agricultural and natural resources programs at Tech.
"The measure of a college's distinction and influence depends greatly upon the achievements of its alumni and the positions they attain in their respective communities and fields of endeavor," Piercy said. "These awards were established to recognize some of our most outstanding alumni."
Smith began farming full time following graduation from Texas Tech in 1973 with a bachelor's degree in agricultural economics. Today, he maintains a cotton, cattle and grain operation near Floydada, Texas, in partnership with his father, Ed, and son, Eric. Aside from his duties at PCCA, Smith is also a past chairman and long-time director of Cotton Incorporated and a past chairman of the National Cotton Council. He is a current delegate to the National Cotton Council where he has served on numerous committees including the council's Environmental Task Force.