By Mica Graybill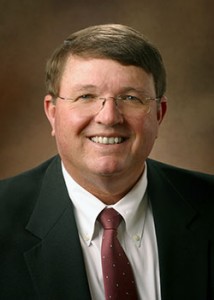 PCCA Board Chairman Eddie Smith has had a great deal of experience as a leader in the cotton industry, and in 2010 he is leading the National Cotton Council (NCC). Smith was elected chairman of the NCC at its annual meeting in Memphis, Tenn.
In 2009, Smith served as the NCC's vice chairman. He also has served on a number of council committees including its Environmental Task Force, and he completed the council's Cotton Leadership Program in 1991.
According to Smith, a nominating committee selects candidates they feel have the leadership skills necessary to effectively lead the organization. Smith said it was "an honor to be nominated."
The NCC serves all sectors of the U.S. cotton industry: producers, ginners, warehouses, merchants, cottonseed processors/dealers, cooperatives and textile manufacturers. The organization is a unifying force, bringing together representatives from the seven industry segments in the 17 cotton-producing states of the Cotton Belt to work out common problems and develop programs of mutual benefit. Smith's involvement in reviewing council programs and policies will open doors and provide opportunities for the cotton industry to flourish.
Smith already has been heavily involved in changes that are taking place at the NCC, addressing issues for the 2012 farm bill, and he is working to increase membership in Texas.
"I am really enjoying being chairman of the NCC," Smith said. "The interaction with the people has been one of the biggest rewards. I get the opportunity to work with some very interesting and talented individuals."
Since 1984, Smith has served on PCCA's Board of Directors, and in 2004 he was unanimously elected chairman of the cooperative. He also has served as a director of Floydada Cooperative Gin in Floydada, Texas.
Smith is a past chairman and longtime director of Cotton Incorporated. He also has served as the organization's treasurer, secretary and vice chairman. In 2009, he was recognized by the National Council of Farmer Cooperatives (NCFC) as Director of the Year at the organization's 80th Annual Meeting.
As a member of NCFC's Blue Ribbon Farm Bill Committee, Smith has served as vice chairman of the organization's Trade Working Group. He currently is a director of the Texas Agricultural Cooperative Council.
Smith feels that his previous experience and involvement in the cotton industry will play a significant role as chairman of the NCC.
"PCCA has helped shape me as a leader in many different ways," Smith said. "I have been able to observe and learn from the leaders who have come through PCCA. That has helped me become an effective board member and an effective leader in the cotton industry."
As an active member of his community, Smith and his wife, JenniSu, currently reside in Floydada, Texas, where he is a deacon at the Floydada Baptist Church. They have one son, Eric, daughter-in-law Leigh, and two grandsons, Ethan and Logan.
Smith said he is really looking forward to being able to lead the NCC and hopes that he will have a positive influence on the organization's direction.
"I want to be engaged and involved in the NCC in any way possible and do what I can in a positive manner to make sure we do what is right for the cotton industry," Smith said.