By Emma Matkin
One might describe Dr. John Gannaway's office at Texas AgriLife Research, formerly the Texas Agricultural Experiment Station in Lubbock, Texas, as a museum of keepsakes and memorabilia he collected throughout his years of working as a cotton breeder and professor.
The entire perimeter of his office is ornamented with old farming caps he acquired through the years, and he still has boxes of them at his house. A few delicate cotton bolls adorn his large desk along with tiny toy tractors. His shelves are stuffed with books and papers, causing one to imagine all of the research materials he has filed away during his career.
For the past 28 years, Dr. Gannaway has researched, discovered, and seen changes in the cotton industry that have impacted the entire agricultural industry. It is bittersweet to think in the next month he will have to sift through all of his belongings and embark on the journey of retirement.
Dr. Gannaway grew up on a farm in Haskell, Texas; a small country town just north of Abilene. It was in this small town where he began dreaming about how he was going to make his contribution to the world of cotton.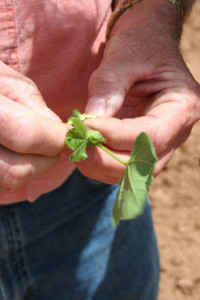 Like most children who live on a farm, the young Gannaway was a hard worker. He said he was never bored, there always was something to do, and of course there was plenty of work. Unlike many other teenage boys, Dr. Gannaway said he loved to work with his father.
"I always considered it quite a compliment when he asked me to go help him," Dr. Gannaway said.
He reminisced about the old days and how they had to hand-pick cotton and his job dumping sacks of cotton in the trailer. Dr. Gannaway was told to check for green bolls, dirt clods, and rocks and if any were left in the trailer, the field workers' wages would be reduced.
One of the most exciting days he remembers when he was growing up was the time his father bought a mechanical cotton harvester.
"I thought that was absolutely the neatest thing in the world," Dr. Gannaway said. "It was fine until I found out I had to ride in the trailer and pick through cotton!"
Dr. Gannaway explained how "back in those days," older cotton strippers were not equipped with green boll separators so anything that came into the stripper came out the back into the trailer. He said he was constantly "smacked" with green bolls and rocks coming through the machine!
Dr. Gannaway and his father would make their way home at night completely exhausted. He remembers his father telling him that without research, this was as good as cotton was ever going to be.
It was this comment about the future of the cotton industry that planted the seed in Dr. Gannaway's mind to embark on his journey into cotton research.
Dr. Gannaway attended Texas A&M University in College Station where he received his bachelor's, master's, and Ph.D. His sophomore year, he married his home-town sweetheart, Jan. During his time at College Station, he had the opportunity to work for Dr. G.A. Niles, a cotton breeder. Niles became Dr. Gannaway's mentor throughout his undergraduate and post-graduate studies.
"I was a student laborer at a cotton breeding program working for the fantastic salary of 67 cents an hour," said Dr. Gannaway with a smile.
After college, he moved his family to El Paso, Texas, where he took over the cotton breeding program at the El Paso Experiment Station where he was first exposed to high-strength, upland cotton; the breakthrough that changed his future.
This was around the time open-end spinning came online, and one of the first requirements of open-end spinning was strength.
Since his discovery in 1974, Dr. Gannaway has been working with fiber strength in upland cotton for almost 34 years and has released countless numbers of germplasms that have high fiber strength. He explained that germplasm is an unfinished variety; a line of cotton that has some trait the industry needs.
In 1980, Dr. Gannaway took over the cotton breeding program at the Station in Lubbock after Dr. Levon Ray retired. It was a fulfillment of his lifelong dream.
"You don't find very many people that have a dream way back when and actually get to fulfill it," he said.
Dr. Gannaway's job at the Experiment Station was one that involved research, forward thinking, and creativity. His major responsibility has been developing germplasm that will help meet the needs of the producers on the Texas High Plains.
"I get up every morning excited because I know there is going to be a challenge, and there is going to be an opportunity, and it's going to be fun. It's been hard, it's been tough, but it has always been fun," Dr. Gannaway explained.
The drive that has kept him passionate about his job all of these years is "that wonderful little cotton plant." He also said he has enjoyed watching his students develop professionally and go out into the workplace.
"I'm going to miss the people, and I am going to miss the challenge. The biggest challenge now will be trying to stay busy!"
When Dr. Gannaway retires, he and his wife will be moving back to Haskell. During his retirement, he would like to travel, play golf, fish, and he said he has a "half-acre of yard" to keep him busy.
He said Texas Agrilife Research could not have hired anyone better than Dr. Jane Dever. Dr. Gannaway said she is already familiar with the program so she has less time to spend on the learning curve.
"It's time to step aside and let younger and brighter minds take over," Dr. Gannaway said.
Dr. Dever will be assuming Dr. Gannaway's position on September 1. She received all three of her degrees from Texas Tech University; she has a bachelor's degree in textile engineering, a master's in crop science and agronomy, and a doctorate in agronomy and plant breeding.
Dr. Dever was the global cotton breeding manager for Bayer Crop Science; an administrative position that was focused on developing commercial cotton varieties and new biotechnology traits.
"At Texas AgriLife Research, I have the opportunity to do more hands-on breeding and develop new germplasm," she said.
Dr. Dever started working with Dr. Gannaway at the Texas Agricultural Experiment Station in Lubbock in 1983 while she was in graduate school. She said he has a way of really convincing people about the importance of cotton research.
"Through Dr. Gannaway's work, this program has become one of the most well- known and best publically-supported cotton breeding programs in the country," Dr. Dever said. "He has a dynamic personality and has been a wonderful spokesman for the industry."