By Blair McCowen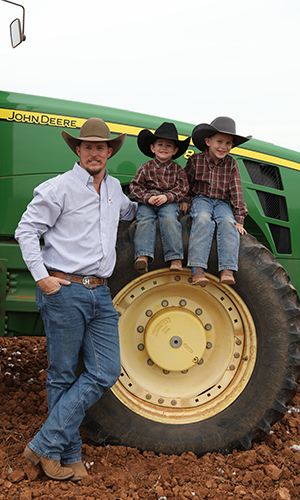 Farming and ranching are two things that run deep in the Hannsz family. Justin Hannsz was born and bred into production agriculture with his farmer-grandfather teaching him how to make it in this way of life. Hannsz said his grandfather taught him valuable lessons that led to the development of his diversified operation, which recently caught the eye of many across the state.
"My grandad was kind of my idol," Hannsz said. "He taught me a lot of valuable lessons. One of the most important was patience, along with honesty and integrity. With two sons there are times that your patience runs thin, but my grandad taught me that it's just better to take a breath and think about things. There's not that much in the grand scheme of things worth getting riled up about. Then as far as farming and ranching, he taught me to just put everything you have in it and to get out there and work."
Justin and his wife, Lindsay, have two boys, J. and Brazos, and a daughter, Hadley. Being raised on the farm himself, Hannsz said he and his wife always wanted to raise their family on the farm, too.
"The best thing I think about my family is we all enjoy what we do so much," he said. "The kids don't want to be anywhere but out in the pasture or out in the field with me, and my wife is a great help. We all really love what we do."
Raising kids, crops, and cattle on his diverse operation that spans 140 miles, Hannsz has been successful in pursuing multiple avenues that have added value to his family business.
"I think it is really good to be diversified," he said. "This year it is going to be really good to have income with cattle, and in past years it has been the opposite situation, so I think the more diversified you can be in agriculture these days especially, the more successful you are going to be."
The Hannsz operation includes raising commercial Red Angus cattle in Erath and Haskell Counties, as well as growing cotton, wheat, mung beans and grain sorghum on 2,000 acres in Haskell County. In addition to his operation, Hannsz also manages a wildlife ranch close to Stephenville, Texas. This diversified success recently allowed Justin and Lindsay to earn the 2018 Texas Farm Bureau Outstanding Young Farmer and Rancher award, where they received a new Ford Super Duty pickup, courtesy of Texas Farm Bureau Insurance, and $5,000 cash, courtesy of Farm Credit.
"I have known about the contest for a long time, but I didn't ever really think it was my thing," Hannsz humbly said. "I had a state director who kind of stayed on top of me year after year to enter so finally this year we entered, and we were glad we did."
According to Texas Farm Bureau, the contest recognizes producers ages 18-35 for their commitment to Texas agriculture. Hannsz said there was no specific rubric for the contest that he was aware of other than the operation being examined as a whole, and that the other competitors had great operations as well. He attributes his good fortune to the fact that because of his diversity, he is able to stand out among the rest.
"They look at where you came from and how you got started and how much growth you have had," he said. "They look at all aspects and kind of sum it up. The two finalists were actually really good friends of ours, then there were winners from every district in the state and they were all really good operations. I wouldn't say that we are better than any of them. I think some things that make us a little different are we are pretty diverse, we have a pretty substantial cattle operation, and then the farming operation. Also, the fact that we are as spread out as we are, we do what we have to do to make things work. We also built our operation ourselves and didn't inherit anything from anyone."
Even though the award is large in stature, Hannsz kept his humility and grace true when discussing his accomplishments.
"It means a lot," he said. "It's not something that I am comfortable – I'm not one to go out and brag and tell everybody about myself. It was just gratifying to be recognized."
At the state level, Hannsz is involved heavily with Farm Bureau, having served three years on the Young Farmer and Rancher committee for the state of Texas. He is also currently in the Farm Bureau leadership development program, AgLead. Locally, Hannsz serves as the Vice President of Haskell Co- op Gin, and is a PCCA grower-owner and past attendee of the Cooperative Producer Orientation. He also said he enjoys the benefits being a member of local and regional cooperatives provides.
"The advantage of doing business with co-ops is you get to go together with your neighbors and farmers from across this region and pool all of your resources," Hannsz said, "and we have a large influence over the markets and more power than we do individually."
Even though Hannsz wears many hats: father, husband, farmer, rancher, leader, and more, he always finds a way to make sure the things he is doing today add value and preserve a legacy for the next generation.
"It is important especially to me because I have another generation coming," he said. "It sounds cliché and you hear it all the time, but I want to leave it
in better shape for them than when I got it. Hopefully, they aren't the last of them. Hopefully, there's more to come after them."
Hannsz said when he thinks about sustainability, the word has multiple definitions.
"There is the obvious sustainability with your farming practices, and there is a lot of definitions for that," he said. "I think it depends on the person. Sustainability can also mean being able to keep your family going because farming and ranching is not an easy thing. So, there is sustainability for the future, other than just the sustainable farming people think of."
To make sure that the future of agriculture has the ability to succeed, Hannsz continually implements sustainable farming practices into his operation and has recently started experimenting with no-till, cover crops and integrated pest management.
"I have just started messing with no-till a little bit," Hannsz said. "I am actually going to have about 450 acres of no-till cotton this year. Cover crops, reduced tillage, all of those things together, but as far as the cover crops and no-till, the biggest benefit that has been really apparent this year is that we have had record rainfalls and the cover crops have really held the soil in place. I haven't seen near as many washes as you would expect with the amount of rainfall we've had."
Even with an already diverse operation, Hannsz pushes the envelope with new farming techniques to add value to his family business. Taking with him the lessons and passion his grandfather instilled in him, Hannsz and his family stand at the brink of greatness in farming and ranching, but there is something he said he wishes everyone, in agriculture or not, would take to heart.
"We are not unlike the rest of the farmers and ranchers from our generation," Hannsz said. "I think all of this has to be able to adapt. You have to put in a lot of hours and make sacrifices and change with the times – and times are definitely changing. You just have to be able to make it work. I think the main thing is farmers and ranchers are eating what we produce. We are clothing ourselves with the fiber we produce. We are very mindful of what we put on our crops and how we produce them. We wouldn't give anything to the consumer that we wouldn't give ourselves."