Has Direct Impact on Coop's Textile Division
By John Johnson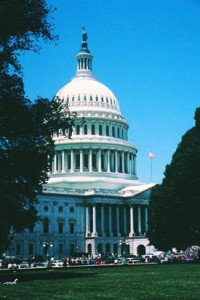 One of the most important trade bills in recent years remained in a House/Senate Conference Committee at this writing in late March. The legislation will have a direct impact on the U.S. textile industry, including the Mission Valley Fabrics division of Plains Cotton Cooperative Association (PCCA), by enabling the industry to effectively compete with foreign manufacturers when the full impact of World Trade Organization (WTO) rules are felt in 2005.
The most critical component of the trade bill is the Caribbean Basin Initiative (CBI) which has been sought by the U.S. textile, apparel and cotton complex for several years. As it relates to textiles and apparel, the CBI grants similar trade status to many Caribbean countries that has been enjoyed by Mexico and Canada since 1994 via the North American Free Trade Agreement (NAFTA). Another component offers similar trade opportunities and requirements for countries in Sub-Saharan Africa.
Prior to NAFTA, textile and apparel trade between the United States, Mexico and the Caribbean Basin since the early 1980s was governed by a rule known as 807. The rule placed an import duty only on the value added to any fabric pieces cut in the United States, up to quota levels, then assembled in Mexico or the Caribbean. In 1986, rule 807A was enacted with a slight change requiring the fabric pieces to be manufactured in U.S. textile mills before being cut and shipped off shore for assembly.
Designed to further expand trade between the United States, Canada and Mexico, NAFTA required a phase out of all quotas and duties by 2004. However, both quotas and tariffs on blue denim and denim apparel assembled in Mexico from U.S. cut pieces were eliminated immediately in 1994, even on the added value of the products. Thus, Mexico gained a significant advantage over Caribbean countries, which continued to trade with the United States under rules 807 and 807A, as long as the denim fabric was made and cut in the United States.
Obviously, NAFTA has been beneficial to the U.S. textile industry by providing access to lower labor costs in Mexico for the labor-intensive process of sewing garments from U.S.-made denim. As a result, U.S. investments in cutting, sewing and laundering operations for denim apparel quickly moved south of the border. However, two other components of NAFTA recently became effective.
Most U.S.-made, yarn-dyed, cotton-rich fabrics such as those produced at Mission Valley Fabrics (MVF) in New Braunfels, Texas, became tariff free on January 1, 2000, and requirements for the fabric to be cut in the United States no longer apply. Implementation of this NAFTA component is potentially positive for MVF if PCCA's fabric sales team can develop relationships with customers who have access to sewing operations in Mexico.
However, Mexican apparel made from Mexican fabric also became quota- and duty-free on January 1. While this may facilitate increased sales of U.S. cotton to Mexican textile mills, it portends increased competition for MVF's and similar U.S. mills' sales to domestic customers in the apparel trade.
Added fuel will hit the fire in 2005 when the Uruguay Round of the WTO, calling for elimination of import quotas and harmonizing of import tariffs, becomes fully implemented. Some members of the WTO, including the United States, even agreed to reduce their import tariffs. Thus, U.S. textile mills will face their most fierce competition ever when foreign textile and apparel manufacturers, with some of the least expensive labor costs in the world, gain virtually unlimited access to the U.S. apparel market.
It was the realization of this inevitability that spurred the U.S. textile and cotton industries to call for extension of NAFTA-like trading rules to countries in the Caribbean Basin where significant infrastructure for cutting and sewing operations already exist. The U.S. industries believe, based on the examples set in Mexico with NAFTA, the Caribbean Basin Initiative will facilitate U.S. investments in the region to further develop the cutting and sewing operations.
With access to lower labor costs in the Caribbean and the region's closer proximity resulting in lower transportation costs, the U.S. textile industry should be able to compete effectively with the anticipated onslaught of textile and apparel products from Asian and other countries.
The situation undoubtedly will be compounded if China is granted Permanent Normal Trade Relations with the United States and gains membership in the WTO. The proposed trade agreement negotiated by U.S. and Chinese officials in late 1999 would grant China's textiles and apparel quota-free access to the U.S. market by 2005. The five-year phase out of import quotas angered many U.S. textile and cotton officials since original WTO members were required to wait 10 years for a similar easing of restrictions.
U.S. textile mills, including PCCA's American Cotton Growers and Mission Valley Fabrics operations, already have maximized their efficiencies of production. The key is low-cost cutting and sewing for the mills' apparel- manufacturing customers.
It also is important to U.S. cotton producers whose largest and most reliable customer is the domestic textile industry. The National Cotton Council estimates the CBI will increase demand for U.S. cotton by one million bales annually within three years. Likewise, hundreds of thousands of U.S. textile jobs will be preserved, and PCCA members can continue to count on financial returns from their cooperative's value-adding textile operations.