By John Johnson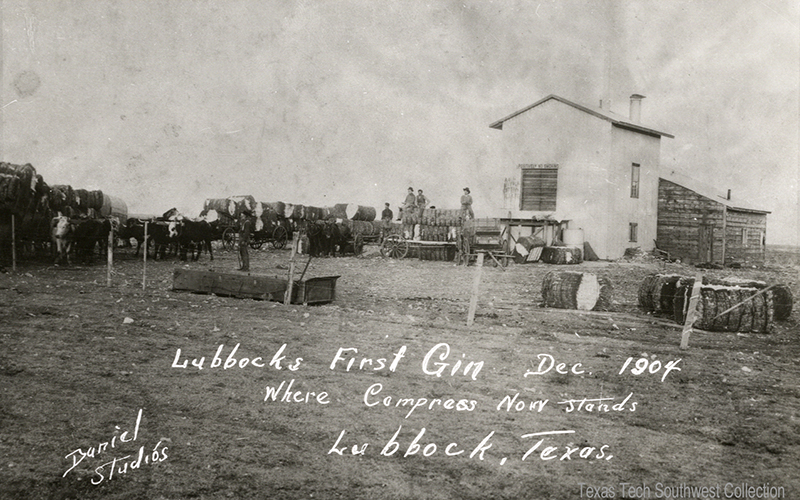 Dozens of residents and cotton industry representatives gathered Oct. 5 for the unveiling and dedication of a Texas Historical Marker by the Lubbock County Historical Commission recognizing Lubbock's first cotton gin. The marker is located at 17th Street and Avenue A, near the gin's original location. The significance of the gin cannot be overstated because it enabled Lubbock to become the hub of the West Texas cotton industry that is a driving force for the area's economy.
It is remarkable to note in the 1850s, West Texas was considered the great American desert. Some thought it was a hostile and forbidding place and destined to remain uninhabited forever. Some explorers noted the region's unpredictable climate with threats for every season including torrential downpours, hail, tornadoes, sleet and snow. About three decades earlier, the first Anglo settlers arrived in Texas, planning to support themselves by growing sugarcane and cotton, and the first gin was built i 1825. Eventually, settlers arrived in West Texas including farmers fleeing the ravage of the boll weevil and seeking inexpensive land.
The first cotton crop in Lubbock County was produced by W.P. Florence in 1901, according to LCHC. However, he had to haul the cotton to Big Spring, Texas, for ginning, a journey that must have taken several days. Lubbock's leaders soon realized the potential for increased cotton production and the need for a cotton gin. The Lubbock Gin Company was formed, and the equipment that was purchased in Dallas was shipped by train to Canyon, Texas. From there, it was hauled by horse and wagon to a three-acre site on the southeast edge of Lubbock. The gin opened in December 1904 and processed 73 bales. After operating for a few years, it is believed the gin was relocated to Slaton, Texas, possibly due to the opening of other competing gins, LCHC explained in its news release.
"By 1931, there were five cotton gins within the city limits, two cotton compress warehouses and one cotton oil mill," LCHC said. "From humble beginnings with a few farmers and one small gin, Lubbock has become a leader in the cotton industry."
That leadership has included the creation of co-op gins throughout the region and regional co-ops such as PCCA, Farmers Cooperative Compress and PYCO Industries. It also facilitated the development and introduction of innovations to better serve their grower-owners. Among those are High Volume Instrument (HVI) classification with assistance from PCCA as well as the cooperative's original electronic cotton marketing system known as TELCOT and an electronic title system.
Lubbock County has been among the top 10 cotton-producing counties nationwide since the 1950s and some years is the number one county. Additional historical markers recognizing the cotton industry are anticipated.