Acquisition will Significantly Expand Coop's Textile Capacity and Earnings Potential
By John Johnson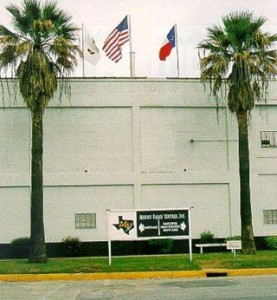 Plains Cotton Cooperative Association announced April 15 its intent to purchase 100 percent ownership of Mission Valley Textiles, Inc. (MVT), a diversified textile manufacturer in New Braunfels, TX. The acquisition will expand the cooperative's current denim manufacturing capability to include yarn- dyed woven fabrics.
Full details could not be disclosed to the general public at the time due to ongoing negotiations with MVT, but following the board's vote on April 15, the proposal was unanimously ratified by PCCA's Delegate Body. Final negotiations now are underway, and the deal must be closed before June 1, 1998, according to a letter of intent signed by the two companies. Commentator will provide additional details in its summer issue.
"Following a thorough and exhaustive review of Mission Valley's operations, facilities and customer base, your staff believes this acquisition will be a good fit with this cooperative's efforts," PCCA President Van May told the board and delegate body. "It should enhance our ability to meet the goals of our 20/20 Vision Equity Plan," he added.
"The denim business has been and continues to be a phenomenal success for our members," said PCCA Textile Division Chief Operating Officer Darryl Lindsey. "It is an extension of PCCA's original cotton maketing responsibilitites, and it has added significant value to the cotton marketed for our members which is in keeping with our mission statement," Lindsey continued.
"Our denim operation's success has led many of our members to suggest PCCA build another textile mill," Lindsey said, "but, the reality is that building another plant from the ground up would require a tremendous financial commitment. Acquiring an existing facility such as Mission Valley is much more attractive."
Located next to the Guadalupe River in New Braunfels, MVT was founded in 1921 as Planter and Merchants, and later it was renamed Mission Valley. During ensuing years, the plant expanded to include more than 500,000 square feet on a 40-acre site.
The mill became a division of WestPoint Pepperell in 1972. Then in June, 1993, Mission Valley Textiles, Inc., was formed through a leveraged buyout in which divisional assets were purchased from WestPoint by Lewis Partners, a Dallas-based investment partnership, and certain members of the mill's management.
MVT today is a leading, vertically-integrated manufacturer of yarn-dyed woven fabrics. Corporate offices, warehouse facilities, a Creative Textiles facility and a mill outlet store are in New Braunfels. Sales, marketing and design offices are headquartered in New York City. The New Braunfels plant houses fiber processing, yarn manufacturing, dyeing, weaving and finishing processes.
The company produces hundreds of fabrications, from 3.0 ounce to 12.0 ounce, including 100 percent cotton and cotton/polyester blends in dobbies, chambrays, indigo fancies, seersucker, uniform fabrics and many novelty fabrics for all apparel markets.
Wrinkle-free fabrics for men's and women's apparel, upholstery and home furnishings, and textiles for home sewing and the craft trade also are included in the product mix. MVT is not a major manufacturer of denim or denim-related products.
Through global fashion market research, MVT remains on the cutting edge of apparel fabric design and is known for its response to customers' needs by re-designing styles to accommodate changing consumer preferences.
MVT's diversity also enables it to sell to a broad range of customers, from major designer brands and specialty stores to private labels and department store chains domestically and internationally.
"Our primary goal is to supply our customers with a superior yarn-dyed woven fabric that meets all of their requirements and adds value to their products," says MVT's mission statement.
"Their mission is very similar to PCCA's," May noted, "which is 'to add significant value to the cotton marketed for our members by being the supplier of choice to our business partners in terms of quality, service and value.' That's why this acquisition is such a good fit."
PCCA's 20/20 Vision Equity Plan was announced in September, 1994. It set ambitious goals to achieve a minimum average annual return on equity of 20 percent and to pay out $20 per bale in cash after the close of each fiscal year to members marketing through PCCA and participating in its mill option program.
"We knew when this plan was introduced that we would not be able to achieve all targets every year," May continued. "The acquisition of MVT will further our efforts to make and return more money to the members of PCCA," May said.
Patrons' equity in PCCA currently totals more than $100 million with only $12.5 million in term debt. Acquisition of MVT will result in total employment of approximately 1,300 for the cooperative and total annual gross sales approaching $1 billion.
Combined net margins from all divisions of PCCA during the past five fiscal years have totaled $142.9 million, and cash distributed to its members in the form of dividends, stock retirements and revolvement of per-unit capital retains has totaled $152.7 million.