By Amy Dromgoole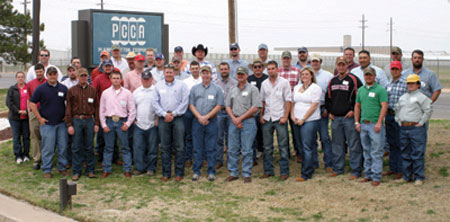 In an effort to spread the word and educate Plains Cotton Cooperative Association's members, the first Young Producer Orientation was held on April 1, 2010. PCCA invited young producers and their spouses from around the region for a day full of informative presentations and social activities.
The overall goal of the event was to improve communication with young members and reveal the spectrum of activities and projects PCCA is a part of on a daily basis. Presentations were given by various PCCA employees in order to convey the full capacity and positive impacts PCCA has on the members' operations as well as the cotton and textile industries.
"We wanted to relay that PCCA is not the 'stodgy' old cooperative that some may think, but it is progressive and positioned well for the future," Dean Church, PCCA's Vice President of Grower Services, said. "Our delegate body meetings are geared to producers that are well acquainted with PCCA, but they don't lend themselves to relaying the 'basics.'"
The orientation consisted of an international marketing presentation and a forecast from Vice President of Marketing Lonnie Winters; a financial recap from Chief Financial Officer Sam Hill; a presentation on technology for the future from Vice President of Information Systems Joe Tubb; a 'field to fashion' presentation from Wilson Avalos, Commercial Director at Denimatrix, and a final presentation about the cooperative advantage from PCCA President and Chief Executive Officer Wally Darneille.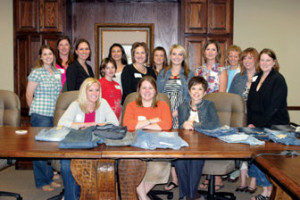 Communications Manager Lynette Wilson also gave a presentation about the overall structure and format of PCCA to the producers' spouses. Spouses also had the opportunity to tour a Lubbock winery following Wilson's presentation.
"I think it is important to know how all parts of your business works, from every piece of equipment in the field to the marketing aspects and even how the gin runs," Clay Graves, producer from Spade, Texas, said. "As a producer, I need every aspect of my organization to be as efficient and profitable as possible."
"I think it is better to be on the leading edge of what is going on – that is where the advantage is," Graves said. "The further behind the curve you are, the less advantage that curve gives you, and PCCA is on the leading edge of the curve."
"I think you have to customize your message to different groups that PCCA serves like these young producers," Church said. "It was fantastic to see the enthusiasm that this group had about agriculture. They are our future, and it's critical to know what they need and want in their cooperative."
Hopefully, the personal relationships built between producers and staff will allow young members to become more actively connected and informed.
"I think it was an excellent beginning on which to build for future years," Church said. "We got great, honest feedback from the group so we've got a good, clear direction for the future."