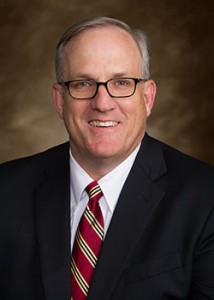 LUBBOCK, TX – (April 24, 2015) – The Board of Directors of Plains Cotton Cooperative Association (PCCA) today named Kevin Brinkley as president and chief executive officer of the Lubbock-based, farmer-owned cooperative effective July 1, 2015. The announcement was made by PCCA Chairman Eddie Smith following a nationwide search to replace Wally Darneille who retired on Feb. 28, 2015.
"We are very pleased to announce the selection of Kevin to lead PCCA's cotton marketing, warehousing and software services for our members and customers," Smith said, "and we are excited by the level of experience he brings to the job. He is well known and respected in the cotton industry and will complement PCCA's management team."
Originally from Burnet, Texas, Brinkley attended Texas Tech University where he graduated with bachelor's and master's degrees in agricultural economics. Upon graduation, he joined the staff of the National Cotton Council in 1989 as field representative for the Texas High and Rolling Plains. In 1990, he was promoted to an economist position in the Council's Memphis, Tenn., headquarters where he conducted farm policy analysis and provided marketing support for Cotton Council International's efforts to promote U.S. cotton.
Brinkley joined the staff of The Seam as marketing manager when the company was created in 2000 to offer the world's first completely online, neutral exchanges for cotton trading. In 2003, he was promoted to vice president of marketing and business development, and The Seam added other commodities such as grains, peanuts and dairy to its trading platform. The company also began offering food trading platforms for major manufacturers and reverse auction procurement systems for USDA. In 2011, he was promoted to senior vice president to oversee all daily operations of The Seam and was named its chairman and chief executive officer in January 2015.
"PCCA is a stalwart of the U.S. cotton industry," Brinkley said. "My vision is to serve our members by continuing to provide the quality of service and value that have made the cooperative the supplier of choice for customers around the world," he added, "and we will continue to look for new innovations that increase the value of our members' cotton."
Founded in 1953, PCCA today is owned by approximately 15,000 cotton producers in Texas, Oklahoma, Kansas, and New Mexico and is one of the largest originators of U.S. cotton to textile mills worldwide. The cooperative also owns six cotton warehouse facilities in Texas, Oklahoma and Kansas with combined capacity to store more than one million bales and provides software services to gins and producers.