By Jayci Cave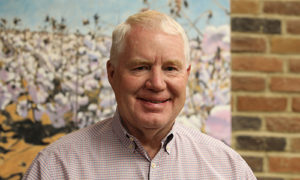 "Love the people, love the members, love what you are doing and take care of business."
Throughout his 45 years working in the agricultural co-op industry, Ron Harkey said these are the words he tried to live and work by, and to say they have served him well would be an understatement. After serving grower-owners for 23 years as CEO of Farmers Cooperative Compress, Harkey retired as of June 30, 2020.
Harkey grew up on a cotton and grain farm between Abernathy and Cotton Center, Texas, where his father was a member of a co-op gin and a director at Abernathy Co-op and Grain. He graduated from Abernathy ISD in 1970. He then attended Eastern New Mexico University on a football scholarship where he played all four years and received a dual degree in agriculture and business. After graduating from college, he married the love of his life, Donita, in December of 1974. The following April, Harkey took a job at Friona Wheat Growers cooperative.
"I got my start in cooperatives in 1975, so I have been serving cooperatives for 45 years," Harkey said. "I really enjoyed my time there. I learned a lot about cooperatives and how they serve the patrons."
In 1978 Harkey went to work as the Plant Manager at Anderson Grain. He was only there a short time before he took a position as CEO at Petersburg Co- op Grain in July 1979.
"Petersburg was a great town," Harkey said reminiscing. "It was a small cooperative and we grew a lot. Our kids grew up in that community and have a lot of fond memories of Petersburg, but I felt the Lord telling me you need to get into cotton. That's probably the future of this area."
Being called to join the cotton industry, Harkey became the General Manager of Abernathy Producers, a recently merged co-op cotton gin and elevator. After one season there, he started his career in co-op warehousing when he became the CEO of Plainview Cooperative Compress on June 1, 1995. Soon after, talks discussing the possibility of merging Plainview Cooperative Compress and Farmers Cooperative Compress began.
"I knew the merger would be in the best interest of all of the members of both cooperatives," Harkey said. "It would diversify our operations. It would grow the cooperative from the panhandle down to Midkiff and it just made sense to me. The boards of both did their due diligence and they decided to proceed."
Following the merger of the two warehouses in 1997, Harkey was named President and CEO of Farmers Cooperative Compress.
"I felt like the years I had spent as CEO in Petersburg and what I had learned there helped put these two together," Harkey said. "It has been good and it has been quite a success story I believe. I know it was the right thing to do."
Harkey said FCC embodies the true cooperative spirit as everything they do is centered on the best interest of the producer.
"It's grower-owned and every day we always do what is best for the producer in whatever we do," Harkey said. "That's our sole purpose. It is not for personal gain. Every day we are about what can we do to enhance our members' profitability by providing services or whatever it is we need to do. I think every day all that we do is with our members in mind."
With that service philosophy in mind, one of Harkey's favorite aspects of the co-op system is paying dividends to the producers. In 2016, FCC celebrated reaching the milestone of paying $1 billion in dividends to its grower-owners. He is also proud of the growth FCC has had over the years.
"I like to give money back to the producers, and in my 45 years every co-op has made a profit when I was there," Harkey said. "I think here I am just proud of the growth that we have had. It was the largest co-op warehouse in the world before I came here so it is nothing that I have done. Due to the varieties, technology and all the cotton production, we have grown. We have grown 60- 70 percent since I have been here."
However, Harkey said this growth did not come without challenges. In particular the 2004 crop season was one for the record books. Prior to that crop year the largest crop both of the warehouses had ever handled was 1.8 million bales.
"It was the perfect storm for these varieties and we went up to 2.6 million bales that year. My word, we just weren't ready for that kind of growth all of the sudden," Harkey said. "You just can't build warehouses overnight. The challenge of it was tough. We made a lot of mistakes in 2004 handling that huge crop. As hard as it was, that got us ready for 2005 when we handled three million bales. Those were challenging years, but it made us grow and forced us out of our comfort zone."
Today FCC has warehouse locations in Lubbock, Plainview, Levelland, Stanton, Sudan, Floydada, and Amarillo, Texas. The employees at FCC take pride in offering top notch service to its grower-owners.
"With the locations that we have, we are built for speed," Harkey said. "We can unload cotton at all of our locations very efficiently and we can load out very efficiently. Merchants have confidence when they order loads that FCC will have it ready on the agreed upon date."
Harkey's dedication to FCC and its grower-owners as well as his desire for progress earned him the title of Cooperator of the Year from the Texas Agricultural Co-op Council in 2014. He has enjoyed warehousing cotton through the years, but he said the people are what he has cherished most.
"When I first joined the cotton industry, a friend told me that you will find that cotton people are some of the best people that you will ever meet and that has been true," Harkey said with a smile. "They have all been really nice to me and I have enjoyed being around all of them. I'm involved in and have served as an officer with the Cotton Growers Warehouse Association, the National Cotton Council and EWR Inc., so I've worked with cotton industry people from California all the way to the East Coast. It has just been a great experience."
This also includes the farmers Harkey has had the privilege to work for over the years. He said he has great respect for the hard work they put in each day and he hopes that he served them well.
"I would just like to say thanks for your patronage, your confidence and for the innovative spirit that all of them have. I have great admiration for all of them because I knew what my dad went through when he was farming. These guys lay it on the line and show such perseverance every year. I appreciate them for that. I am thankful that I got to store their cotton bales and hopefully I did a good job and took care of them while they were here."
Harkey attributed the success of FCC to the dedicated Board of Directors he had leading the way.
"I have had the honor of serving with some of the best directors anyone could ask for," Harkey said. "They have kept me out of trouble more than once. From Petersburg to FCC, I have been very fortunate."
In addition to many friends in the cotton industry, Harkey said he couldn't have done it all without the support of his wife and family. Together he and Donita have three children and eight grandchildren. Harkey is also an active member of his community. He has been a long-time member of the Gideons and the Lions Club as well as a member and deacon at First Baptist Church in Lubbock. In his retirement he plans to travel and watch his grandchildren grow up. He also intends to hunt and spend time on his ranch in Motley County.
While he will miss FCC and the people he has come to call family, he said he knows the co-op will be in good hands with Eric Wanjura taking over as CEO.
"I am very excited about Eric being CEO and for FCC with him at the helm, I hope our better days are ahead of us," Harkey said. "For me success, whether it is FCC or whatever, is to leave it better than I found it. I hope that is what people will say when they look back on anything I have done through my career in cooperatives."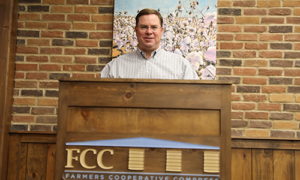 Eric Wanjura Named FCC President and CEO
Following Ron Harkey's retirement, Eric Wanjura was named President and CEO of Farmers Cooperative Compress effective July 1, 2020. He has been a part of the FCC team since 2005 when he was hired as the plant manager for the Plainview, Texas, warehouse. He held that position until 2016 when he was named Vice President of Administration.
Wanjura is a graduate of Texas Tech University with both a bachelor's and master's in agricultural economics. Prior to working at FCC, he worked at PCCA in both the Field Services and Gin Accounting departments from 1996 to 2005. He has been married to his wife, Christine, for 25 years and together they have three children: Sarah, Ben and Hugh. Wanjura said he is proud to work for the cooperative and enjoys being part of something bigger than himself.
"I enjoy working for FCC's grower-owners because I want to help add value to their farming operations," Wanjura said. "When you boil everything about FCC down to its essence, you are left with one thing: service. The team at FCC fully understands service, and it makes our jobs easier when we are clearly focused on providing service."
Wanjura has worked alongside Harkey for many years and has admired his leadership of the co-op and the people around him.
"Ron has been a tremendous mentor and friend," Wanjura said. "Ron has taught me, through the way he lives his life professionally and personally, to be consistent in all aspects of my life. Hopefully, I have absorbed some of his wisdom and foresight. Ron has left a lasting impact on the culture of FCC through the way he treats his employees, business associates and members."
As Wanjura begins to lead the cooperative, his hope for the future is that he can continue the standard of service and growth FCC has followed.
"My goals are for FCC to continue to provide excellent service to our members, gins and cotton shippers," Wanjura said. "I want to embrace growth opportunities while staying true to our members who have established FCC's prosperous foundation."