By Jayci Cave
"When I think about sustainability in terms of cotton, I think about my legacy as far as my family and the generations behind me. What am I doing to make it sustainable where they will have the same opportunities that I did?"
These are the words of Dahlen Hancock discussing what sustainability means to him and his family. He is a fourth-generation farmer near New Home, Texas, and serves on PCCA's Board of Directors representing District 7. In addition, Hancock is active with the National Cotton Council, Cotton Incorporated and Cotton Council International.
The latest topic on sustainability comes in the form of the U.S. Cotton Trust Protocol, an initiative launched this summer by the National Cotton Council. According to the NCC, the Protocol is, "a cotton production assessment system established by the U.S. cotton producers and industry organizations to provide a mechanism by which U.S. cotton producers can assess and verify their current production practices and measure their progress toward long-term sustainability goals."
Hancock said the Protocol is simply a way for U.S. growers to tell their story. He serves as a board member for the Cotton Trust Protocol, and said he and the other growers on the committee wanted to make sure enrolling in the Cotton Trust Protocol was not an intrusive process. They wanted it to be clean and simple, while also meeting the needs of the involved parties. Hancock said the four R's (Right rate, right source, right time and right place) are incorporated into the questionnaire to allow growers to simply sign up their farming operation.
"The main thing to remember is that you may know you are doing a good job on your farm, and you are growing cotton responsibly. You know you are using the right products and doing it all within the guidelines, but nobody else does," Hancock said. "The Protocol is a way of telling your story. You are able to tell your story in a collective, uniform model that was designed by the NCC and producers, with brands and retailers represented on that board as well. It is the kind of fit that helps everybody."
Carlos Garcia, PCCA Export Sales Manager, said brands and retailers are increasingly seeking sustainably grown cotton.
"The Cotton Trust Protocol provides a means by which U.S. cotton producers can independently verify and prove that they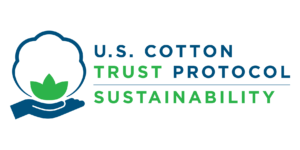 meet and, in most cases, exceed, the sustainability standards set by the users of our cotton," Garcia said. "As most brands and retailers move toward only using 100 percent sustainably grown cotton in their products, it is important we position U.S. cotton to be the first fiber they look for to fulfill their requirements."
The U.S. Cotton Trust Protocol can be mutually beneficial for the involved parties. Garcia said PCCA can utilize it as another opportunity to market grower-owners' cotton.
"PCCA has an excellent reputation around the world as a trustworthy and dependable source of high quality, high value cotton," Garcia said. "Being able to offer Cotton Trust Protocol bales only adds to our ability to meet the needs of our customers. Having Cotton Trust Protocol bales keeps PCCA from being shut out of potential business opportunities that could benefit our growers."
PCCA is proud to play a small role in its grower- owners' farming operation. Garcia said the Protocol is a way for others around the world to see what we see every day.
"When our customers buy from PCCA, they know they are buying from farmers," Garcia said. "Through the Cotton Trust Protocol, we are able to show our partners around the world that we continually strive to farm in a way that ensures our children will be able to step in and continue growing cotton so that our customers will always have a steady supply of cotton."
Through his involvement with cotton organizations, Hancock has had the opportunity to visit textile mills around the world. He said one of the main things they look for is responsibly grown cotton. That was his motivation to not only participate in the Cotton Trust Protocol, but also play a role in developing the initiative. He encourages his fellow growers to also enroll.
"I think more than anything I would just encourage people to be open minded about it and don't go into it with any preconceived ideas," Hancock said. "It is not that big of a deal. Sit down, go through it and answer it the best you can. What it has done for me is it brings some things to your mind that you wouldn't think about and it spurs you into thinking about incorporating it into your operation."
PCCA's staff is on-hand to assist anyone with the sign-up process, and answer any questions that may arise.
"Aside from giving farmers access to markets and making U.S. cotton more marketable, the Cotton Trust Protocol also provides tools for farmers to assess their operations and compare themselves to other farmers on a local, state and national level," Garcia said. "Bailey Nesmith has already helped many of our members sign up for the Cotton Trust Protocol. She and our Member Communications staff are ready and willing to help anyone sign up and answer any questions they may have."
HOW TO JOIN
Go to https://trustUScotton.org to sign up and join other U.S. growers. Your efforts today will help ensure markets for U.S. cotton for the next generation. The Trust Protocol will ensure that U.S. cotton continues to lead.
Perform a brief, click by click, self-assessment against the new Trust Protocol standards.

The process involves answering a series of simple questions in 9 different sustainability categories – the survey should take no more than about 30 to 45 minutes of your time.

Growers will have access to the Field to Market FieldPrint Platform data tool for environmental metrics – allowing you to confidentially assess your operations sustainability progress.
Operational data is verified through coordinated and brief on- site visits from our third-party data verification group.
By joining, member growers will be sharing a more detailed review of their sustainable farming – the efforts you make every day to ensure the future U.S. cotton.
When you sign up, be sure to designate PCCA as your merchandiser which will enable us to upload bales and receive protocol credits on your behalf.
If you have any questions or need assistance, contact PCCA at 806-763-8011.