By Jennifer Boyd
Gin Plant Modernized to Boost Capacity
United Cotton Growers (UCG) Cooperative near Levelland, Texas, recently completed an extensive renovation to its facility that is expected to boost ginning capacity to 60 bales per hour.
UCG is a grower-owned cooperative comprised of 592 stockholders, and it has expanded in recent years due to several mergers, purchases and ginning agreements with other area gins, according to UCG Manager Paul Wilson. Cities and communities involved are Arnett, Clauene, Levelland, Pep, Pettit, Smyer, Whiteface and Whitharral. UCG has offices and plants at both Arnett and Whitharral covering an approximate 50-mile radius and offering a potential ginning volume of 100,000 bales.
Wilson said the decision to make such a large capital improvement was the result of a long-term strategic plan set forth by the UCG Board of Directors in 2001. The plan produced several new goals for the cooperative, two of which were to reduce the operating cost per bale and to adopt a plant structure that maximizes efficiencies and returns to the membership.
The Arnett plant was chosen to receive the upgrade because of its location to the regional cooperatives in Lubbock, its isolation from residential areas, and the existence of a high capacity press and module feeder already in place. Also, the Whitharral plant will be shut down and sold after the new plant is running, Wilson added.
"The choice to shut down the Whitharral plant was difficult to make because of its effect on that community and the perceived need for additional capacity in large volume years," Wilson explained. "Several years of operating two plants had produced some good numbers to study, and it was discovered that operating two small to medium size gins with aging equipment was too costly. In large years we could fully utilize both facilities, but in small years we would not."
Wilson believes the consolidation of the plants will allow the one, larger plant to more efficiently utilize labor and utilities. With the newer machinery and technology available, production out of a large plant is adequate for a large crop and requires less maintenance.
"Still, the board had to consider future growth, so the new facility has room for a future addition; basically two plants in one building," Wilson said.
A master plan for the refurbishment was created in 2002, and W&R Sheet Metal of Brownfield, Texas, provided the sketches. UCG had a Continental 930 press and module feeder already in place, and a new building addition with an indoor bale loading area was built in 1997 when the press was purchased. The remainder of the plant was designed around these machines and building.
Financed by AgTexas Farm Credit Services, UCG contracted with Lummus Corporation in December 2002 for four new Lummus 170 gin stands, model 700 feeders, Sentinel lint cleaners, conveyors, Beltwide stick machines, and Beltwide inclines. Lummus also provided engineering and construction drawings. Also purchased for the project were a press upgrade from Continental Eagle Corporation and a bale moisture restoration system from Samuel Jackson Corporation called a Steam Roller. UCG combined this new machinery with pre-cleaning and drying equipment that was on hand to complete the machinery needed for the renovation, and all of the existing equipment was repaired and painted.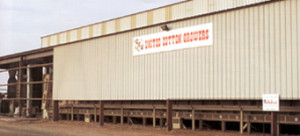 Lubbock Electric Co. provided the electrical wiring and controls and designed a unique state of the art touch screen master control console. Rather than the conventional stop/start push buttons used in most consoles, Lubbock Electric utilized graphic images of the machinery that could be touched to start and stop individual motors. The system offers two large screens that are used to start and stop motors and provide information, controls and diagnostic capabilities at the ginner's fingertips.
"The console contains automatic burner controls, feeder controls, and the ability to configure interlocks, shaft monitors, and sequence starting and stopping on line while ginning." Wilson said. "It also has the future capability to be accessed remotely by Internet for monitoring and diagnostics."
Alex Langehennig Concrete Construction of Seagraves, Texas, built the foundation that includes a basement and potential space for two future gin stands and pre-cleaning equipment if neccesary. W&R Sheet Metal of Brownfield provided the sheet metal while Kimbell Gin Machinery Co. of Lubbock provided the fans. Construction on the project began in January 2003 and was completed the following October.
The plant was designed to gin 60 bales per hour and to preserve fiber quality and maximize turnout with single lint cleaning. The new Lummus Sentinel lint cleaner is the latest lint cleaner design available and results in less fiber damage and longer staple than conventional lint cleaners currently used in most gins. UCG is one of only two gins in Texas using this new technology.
"New gin plants require a considerable amount of adjusting and debugging," Wilson said. "So far, this plant is running beyond expectations with several days of 1,000 bales or more ginned in a 24-hour period," he added.
"It has turned out extremely well," Wilson said excitedly, "extremely well for a first year project. Our ultimate goal is to gin 7,000 bales a week with as much single lint cleaning as possible," Wilson explained.