By Jamie Woolley
The 2002-03 cotton season proved to be a fruitful one for Plains Cotton Cooperative Association (PCCA) and 25 coop gins that broke records for the number of bales handled during the season.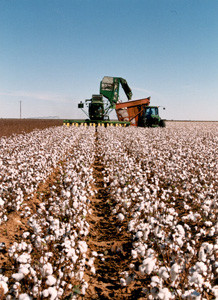 With nearly half of the record-setting gins beating their old figures by at least 20 percent, it only makes sense that PCCA had a record-breaking year as well. As of June 11, PCCA had handled 3.17 million bales, surpassing the 1999 figure of 2.9 million by more than 270,000 bales.
David Stanford, vice president of marketing for PCCA, said "a record- breaking year really helps the producer members of the coop and validates the coop system."
"The people who really benefit from these records are the producers," Stanford said. "In record years, the extra money earned from ginning and marketing goes back to the producers in the form of dividends and/or stock." He also pointed out that a record volume of cotton produced can create a challenge to find a home for every bale.
"PCCA finds a home for every bale," Stanford said. "This is very important because we don't want to leave any equity untapped in years of oversupply."
There were many factors that contributed to 25 gins handling a record number of bales, but new cotton varieties that produce better yields and favorable weather conditions received much of the credit.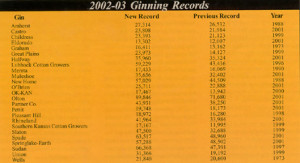 Olton Coop Gin was recognized for ginning the largest number of bales for the 2002-03 season in Texas, and Manager Chris Breedlove said weather played a major role in achieving that honor.
"Mother Nature contributed the most to our record," he said. "The weather was just conducive to cotton farming, and we made higher yields this year." Breedlove said being recognized for the largest ginning volume in Texas meant a lot to the coop's members.
"They really love it," said Breedlove. "Olton is a close- knit, small community, and agriculture is its heartbeat."
Buzz Cooper, manager of Union Coop Gin south of Lubbock, Texas, said new cotton varieties, drip irrigation systems and new customers contributed to the increased number of bales ginned. He also said timely rains were a big factor.
"We made some high yields because we caught some rain in the summer months that hit right when we needed it," Cooper said.
Larry Tomlinson, manager of Rhineland Coop Gin, said favorable weather also contributed to increased yields on the Rolling Plains of Texas.
"The rains that came during the summer really helped our crop because we produced some dryland cotton," Tomlinson said. "The new varieties also played a role because they produce better yields." Old records were topped in Kansas and Oklahoma as well.
In Southern Kansas, normal weather conditions contributed to the record- breaking crop, said Gene Latham, manager of Southern Kansas Cotton Growers.
"We think our crop hit a record because we returned to normal weather after two years of drought," said Latham. "We hope to maintain the trend of increasing yields as favorable weather continues."
"New customers and higher yields were most important in breaking our record," said Barney Trammell, manager of Eldorado Gin in Southwest Oklahoma. "We broke one last year, so it was exciting for us to do it again this year."
Trammell said boll weevil eradication in Oklahoma and the fact that 95 percent of his customers planted stacked gene varieties contributed greatly to the higher yields.
Whether it was favorable weather conditions, new cotton varieties, or new gin members that contributed to making this a record-breaking year, one thing is certain, 2002-03 proved to be a fruitful season for PCCA and many coop gins.