By Lynette Cockerell
PCCA commemorates its 50th Anniversary in 2003, celebrating half a century of cutting-edge ideas, innovations, acquisitions, and the occasional controversy that accompanies great change. It took all of these contributing factors to transform a small marketing cooperative into the largest farmer-owned cotton cooperative in the world.
Warehouse Divisions Facilitate Early Growth
PCCA became more than a market-ing cooperative and increased its potential to add more value to its members' cotton by opening two cotton storage facilities in 1963. The warehouses, Oklahoma Cotton Cooperative Association (OCCA) in Altus, Okla., and Rolling Plains Cooperative Compress (RPCC) in Sweetwater, Texas, allowed producers to profit from the compression and storage of their own cotton.
The facilities, easily accessible by highway or rail, compressed bales delivered by area coop gins to the density specified by cotton buyers, providing a valuable marketing advantage for the sales staff at PCCA.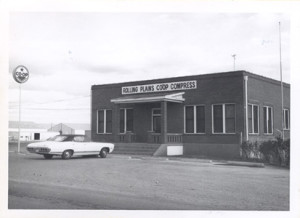 The presses at both compresses are no longer used due to technological advances allowing gins to tightly compress bales to meet universal density specifications. However, OCCA and RPCC continue to perform an important role in the cotton supply infrastructure as storage and shipping facilities. Currently, the facilities handle a combined average of 475,000 bales of cotton annually and, through yearly dividends, they have consistently added to PCCA members' bottom line.
In addition to expanding its services, PCCA also extended its trading area. PCCA membership was no longer limited to West Texas and Oklahoma cotton producers when the cooperative expanded its trade territory in 1967. Through the acquisition of small marketing cooperatives in Corpus Christi, Texas, and Harlingen, Texas, producers in the southern portion of the state were able to enjoy the benefits of marketing their cotton through PCCA. Meanwhile, PCCA was able to acquire additional cotton that is harvested much earlier than the crop in West Texas and Oklahoma.
The trade territory was expanded considerably in 1996 to cover both Central Texas and Southern Kansas. Buyers could purchase cotton from almost any area of Texas now that PCCA covered most of the state by opening a field office in Taylor, Texas, thus providing Central Texas cotton producers the marketing advantages offered by PCCA. As cotton production continued to move north of the state, so did PCCA's service area. The cooperative began marketing cotton for Kansas producers, broadening PCCA's membership area to include three states.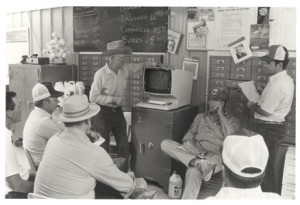 Lubbock Cotton Growers, 1978. Among those shown in the photo are Manager Gene Beck and members Buzz Vardeman, Bill Piercy, Dean Vardeman, Keith Vardeman, and Bill Marshall.
With a growing membership bringing more cotton to sell, PCCA constantly explored better ways to market its members' crops. In search of a better way to reach more cotton buyers, the nation's four major cotton marketing cooperatives (PCCA, Calcot, Staplcotn, and Southwestern Irrigated Cotton Growers Association) joined together in 1971 to form AMCOT, a centralized "shopping center" for the world's textile mills.
The establishment of AMCOT benefited all four cooperatives and their members by consolidating their sales offices in a given city into one. Additionally, by having all major varieties of U.S. cotton for sale, mills could obtain any required cotton simply by contacting any one of the AMCOT sales staff. Today, the four coops, with the support of more than 30,000 cotton growers, annually supply approximately five million bales, or about one-third of the U.S. cotton crop, to textile mills worldwide.
TELCOT Revolutionizes Cotton Trading
One of PCCA's most outstanding and innovative developments was TELCOT, a marketing system developed in the mid-1970s to be an electronic extension to the way cotton producers had traded their cotton for decades. TELCOT was a centralized place where buyers and sellers could meet to trade cotton via computers connected to PCCA's mainframe. TELCOT was designed to be an online, real-time cotton trading system.
Conceptually, it operated similar to that of the New York Stock Exchange (NYSE). TELCOT provided producers a number of options to sell their cotton as well as access to more than 50 major buyers of U.S. cotton and the opportunity to receive the most competitive price available at the time of sale. TELCOT guaranteed payment to each producer and guaranteed delivery to each buyer of the cotton purchased. From TELCOT's inception in 1975, more than 25 million bales traded over the system, justifying the title "Window of the Marketplace."
To extend TELCOT services to independent gins and their customers in Texas and Oklahoma, TELMARK, Inc., was founded in 1985 as a subsidiary of PCCA. This expansion enabled TELCOT's data processing services to be shared by a larger number of users which increased volume and lowered operating costs.
PCCA began to experience unexpected growing pains as more cotton was traded on its electronic trading system. Therefore, in 1989 an Electronic Title System (ETS) was introduced to work hand-in-hand with TELCOT. The need for ETS became apparent in February 1989 when a record 385,599 bales were traded on TELCOT in a single day. The ETS feature was developed by PCCA to eliminate the need for paper warehouse receipts, improve efficiency, reduce costs incurred by gins and cotton buyers, and to expedite shipments to textile mill customers.
In 1997, PCCA reported the development of its "Gin Office of the Future" program to increase its service to local coop gins and their customers. TELCOTnet, which utilized an Internet browser system, was installed in all gins served by PCCA. This user-friendly system provided gins with greater access to more information at less cost and with increased reliability.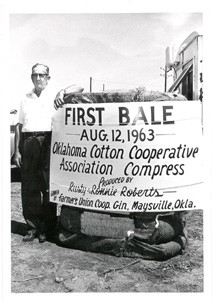 PCCA joined forces with three major cotton merchants and the two largest cotton consuming textile manufacturers in the United States in fiscal year 2001 to establish a new company offering the latest Internet trading system for U.S. agricultural commodities. The new company, The Seam, offers the world's first, truly online cotton marketplace. PCCA's TELCOT system was adapted to become the foundation of this Internet service.
Online trading began Dec. 8, 2000, via The Seam's grower-to-business (G2B) feature. On Feb. 8, 2001, the new company launched its business-to-business (B2B) marketplace where merchants can trade cotton anonymously among themselves. Since that time, additional investors, including many major U.S. cotton merchants and cotton marketing cooperatives, have joined the effort. Through The Seam, PCCA members continue to have access to electronic marketing for their crops. More important, The Seam can offer a greater number of cotton buyers to bid for the cotton offered for sale by PCCA members, ensuring the most competitive price possible.
It is innovation and determined leadership that have led PCCA to the forefront of cotton marketing. Throughout its history, the cooperative has demonstrated a remarkable ability to adapt to the ever-changing needs of its members, a characteristic that ensures the continued success of Plains Cotton Cooperative Association.