By Emma Matkin
The Lubbock Westminster Presbyterian Church, the Bernina Sewing Studio, and other hardworking volunteers in the Lubbock community and surrounding areas came together for a second year to make denim Christmas stockings for our heroes overseas.
Dona Nussbaum is one of the many volunteers who helped make this project possible. She said the project was set in motion in October 2007 when the mission committee of the church decided they wanted to do an episodic (short term) mission that would be intergenerational. Thoughts were tossed around and the committee came up with the idea of sending Christmas stockings to a military base in Korea.
Nussbaum said within three weeks, everyone joined together to make, stuff, and send 3,000 denim stockings to troops for Christmas morning.
"The thank you letters we received from the base were so rewarding and inspirational that we decided to do the project again this year," Nussbaum said.
Last year, American Cotton Growers (ACG), the Textile Division of PCCA, donated 100 yards of denim to make the stockings. For this year's project, ACG donated 200 yards which was enough to make 2,500 Christmas stockings.
Virginia Dorton has been a member of the Volunteer Center of Lubbock for the past two years and was involved in the Christmas stocking project last year. She explained that the project has been a community-wide effort.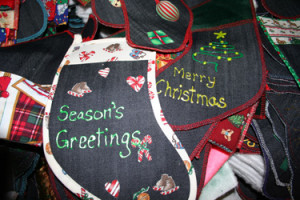 "Last year we didn't know what to expect, but people just started showing up to help," Dorton said. "We had people from all ages up here helping and making sure the project was successful. It was uplifting to see the support we have from the community."
Dorton said this year, when the committee decided to do the project again, all of the volunteers started working on the stockings well before December.
Nussbaum said the committee reached out to the community through the newspaper and asked for items to use in decorating the stockings and they received a great response. The volunteers spent every Wednesday night in May cutting out patterns and bagging the un-sewn stockings into packages of 25 along with 25 pieces of white fur for each of the cuffs. Volunteers then took the packages home and sewed the stockings together.
Sylvia Heinrich is a member and a volunteer from the church and was in charge of making sure all of the stockings were sewn.
"Many people were very creative with their stockings, and each one has a special uniqueness," Heinrich said. "The great thing about the stocking project is that it expanded beyond the church."
There is a variety of sewing styles in all of the stockings, because so many different people and organizations contributed to the sewing project. Heinrich said the Bernina Sewing Studio was very creative and very helpful in sewing the Christmas stockings. As part of their occupational therapy, people in assisted living volunteered to sew and decorate stockings as well. Sewing volunteers stretched even as far as Amarillo and many communities in between.
"I knew if God was directing it, everything would all work out," Heinrich said. "We prayed over it, and things just began to fall into place in such a way that we knew He was in control of it all."
National Family Volunteer Day was held November 22, and all across the country families were kicking off the holiday season by stepping out into the community and volunteering for a special cause. The Volunteer Center of Lubbock hosted its family day at the Westminster Presbyterian Church so families could take part in preparing the Christmas stockings for our soldiers.
The church's entire Family Ministry Center was neatly organized with tables stocked with supplies to fill each stocking. There were tubs of assorted candy, many different types of CDs, DVDs, cassette tapes, personal care items, comic books and puzzles, and many promotional items from local companies. Christmas cards were prepared with handwritten messages of thanks and words of encouragement. Additionally, inside each card was a letter of thanks and best wishes from State Representative Carl Isett, Lubbock Mayor Tom Martin, Congressman Randy Neugebauer, and U.S. Senator John Cornyn. A small card with the "Texas Style" Ten Commandments was placed in the Christmas cards, and a decorated list with many of the contributors' names and businesses also was included.
Nussbaum said the stocking project is very rewarding because "you realize you really did make a difference in someone's life on a day when they might be particularly lonely."
"If it just ministers to one of our military people, it is worth all of the effort," Heinrich said. "They are overseas during the holidays, and it's important that we remember them because they are doing such important work for all of us."