By Mica Graybill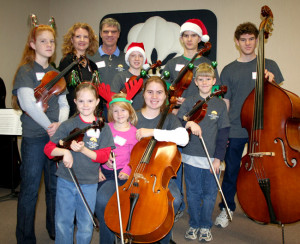 The employees of Plains Cotton Cooperative Association enjoyed a concert of Christmas carols on December 19 performed by eight members of the Bingham family from Meadow, Texas.
Cliff Bingham, a member of Meadow Coop Gin and PCCA, grew up in a farming family with strong ties to Meadow Coop Gin. Cliff graduated from Texas Tech University with a business degree, and he and his father farm 3,000 acres of organic cotton, peanuts, sesame and other crops. The Bingham family also grows organic grapes on a 50-acre vineyard.
Cliff and his wife, Betty, have had a passion for music for as long as they can remember. Cliff has played the piano since he was a child, and Betty also enjoys playing the piano and singing. As their children got older, Cliff and Betty wanted to instill their love for music in their children.
"We began teaching our children to play instruments when our oldest was about 13," Cliff said. "Our youngest daughter started playing the violin when she was four."
The Bingham children had always been exposed to the piano growing up, but when the oldest children got into their early teenage years, they expressed a great interest to their parents for expanding their musical talents. With younger children at home to care for, Betty said she did not have the time to take them to lessons on a weekly basis. Cliff took it upon himself to take one day a week from his busy work schedule to chauffeur the children back and forth to music lessons.
The Bingham children began playing instruments as a hobby and later began playing with the Lubbock Youth Symphony Orchestra (LYSO). The Bingham family has been playing with the orchestra for seven years.
Over the years, the Bingham children have taken lessons from many great music teachers throughout the Lubbock area. They have taken lessons from professors in the music departments at Texas Tech University and South Plains College (SPC) in Levelland, Texas. Several of the children also took a bluegrass class at SPC where they learned to play the harmonica and banjo.
Aside from the LYSO, the Bingham children play at other events including weddings, church programs, and the Mother-Daughter Banquet hosted by the Calvary Baptist Church in Lubbock, Texas. To prepare for events throughout the year, the talented young musicians practice five days a week. The children practice at least one hour a day by themselves, and the older children often practice for two or three hours. Some days, the family works together and practices as a group.
"Some people say we have enough kids to make a football team," Cliff said. "I tell them, 'No, we have enough to make an orchestra.'"
Cliff and Betty have homeschooled each of their 11 children. The flexibility of their school schedule allows the children to help on the farm when needed. According to Cliff, his children also help tremendously with the family vineyard, putting forth time and effort to help care for the grapes.
In order for their organic crops to stay within organic guidelines, Cliff can only use organic pesticides and herbicides as opposed to synthetic. He uses compost to fertilize the crops, and he sprays sulfur on the grapes to keep powdery mildew from damaging the crop. Aside from his own vineyard, Cliff will be busy planting three other 22-acre vineyards in the next year to help three of his oldest children get started in the family business. Dan Jackson, the manager at Meadow Coop Gin, regularly does business with the family.
"The Binghams are some of the nicest people you'll ever meet," said Jackson. "They're great farmers, good business people and wonderful parents."
The talented Bingham family is an example of true harmony, whether they are playing instruments as an orchestra or working together on the farm.