by Blair White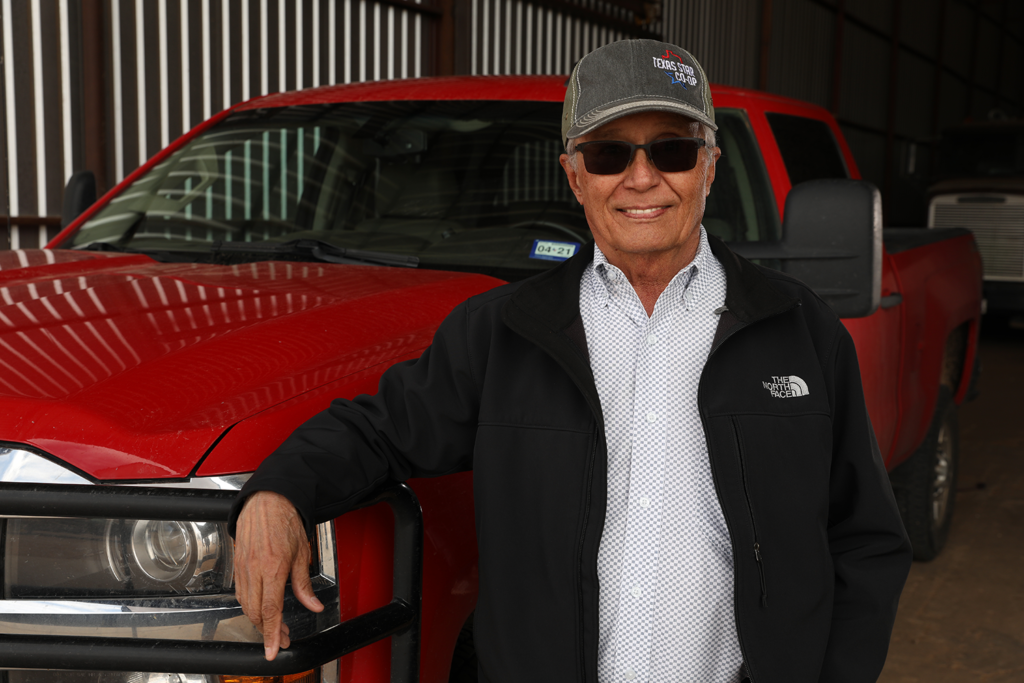 Cowboy blood still flows through his veins, but it turned out that in 1975, Buzz Cooper discovered he was gifted at more than competition rodeo. Born into a ginning family, Cooper thought his calling was saddle broncs. What began as a one-year test drive in the gin manager's seat would later turn into an incredible 45-year career.
A Ralls, Texas, native, Cooper attended Texas Tech University, riding saddle broncs for the rodeo team. After college, he made it to the big leagues and joined the Professional Rodeo Cowboys Association. It was during those days that Cooper met his wife, Kim. With a quick grin and blush, he said he would see his future wife at rodeos when she was Miss Rodeo Texas. Forty-one years later, the Coopers have two sons and two grandchildren. While living his dream on the pro rodeo circuit, a family friend convinced Cooper to manage a cotton gin for one season.
"I told him, 'I'll do it one year until you find somebody good,'" Cooper said. "I had never managed a gin before in my life until then. I said I was going to do it one year, and that was 45 years ago."
For 22 years, Cooper ran an independent gin until he was hired in 1998 to manage the Union Co-op Gin just south of Lubbock. When Union Co-op merged with Wilson Co-op in 2004, Texas Star Co-op Gin became the new name. Cooper said both communities have prospered since the merger 17 years ago.
"We were about to outgrow the machinery at Union, and Wilson had experienced some short crops," he said. "They needed the volume, and we needed the machinery at Wilson, and it was a match made in heaven. I cherish that as much as anything. That the actual merger worked so well for both communities. We don't call it Union-Wilson. We call it Texas Star."
Mergers always require two communities to adapt to working together. Cooper's people skills were vital in helping the two co-ops quickly become a unified, successful business. The alignment in goals and values has paid off. The Texas Star board holds the record for unanimous votes, but Cooper didn't always have a strong board as a resource.
"I ran an independent gin and never had a board of directors," he said. "I didn't know what it was going to be, but they are God's gift to me and my family. I wouldn't trade my directors and my membership with any gin. They are part of the team. It's not me, me, me – it's we, we, we."
Cooper's tenure has not been without challenges such as keeping good labor at the gin and driving trucks.
"Labor is the biggest challenge, whether it is at the farming level or the ginning level," he said. "The trucking is a big challenge too, but it's because of the labor. We have overcome it a little bit by hiring it done. We've got the best crew I have ever had in my life, and I give all the credit to the guys out there and the ladies in the office. It wasn't me that did it, but we that did it."
Cooper also credits regional co-ops such as PCCA, Farmers Cooperative Compress, and PYCO with providing farmers with strong, ever-present re- sources to add value to their crops.
"United we stand, divided we fall. We are stronger as a co-op family – regional, local levels, that is just the way it is. Ginning at a co-op and using our regionals, it is staying power," Cooper said.
Managing a co-op gin has its highs and lows, but Cooper is quick to point out that being part of the community is one of the most rewarding parts of the job.
"We support everything we can – we support the communities we do business in. We don't do it because we have to. We do it because it's good business and we want to support them. When I say we, I mean it's me, the board, the membership, we do. The farmers stop whatever they are doing and go to the aid of whoever, and that is a good, good feeling. I just don't know how many industries would do that. We are a different breed of people. It's a serious deal, I think, and there's a free trip to heaven for people like that."
In his retirement, Cooper said he will not be able to sit still and relax for long. Whether it will be getting back to his love of the rodeo and horses or chasing grandkids around, he will find something to keep busy.
"Those grandkids – little'uns that tall are fixing to rule my life," he said as he held his hand a short distance from the ground. "I have a few offers if I want to do some part-time stuff in the cotton business, might raise a bucking horse or two. I like to go to the mountains of Colorado, and Ruidoso is so easy to get to. Then there's also my boys, and I enjoy dove hunting, but all my life that season has come during ginning season."
With much to look forward to and an incredible legacy to leave behind, Cooper imparted some advice for those just beginning their careers in the cotton co-op world.
"Learn as much as you can on every end of it, from the bottom to the top," he said. "I think you need to be able to do everything. If you want to climb the ladder, and you want to be high up in the co-op system, whether it's at a farm store or whatever – you need to be running a forklift all the way up to working in management. I am a firm believer in that."
Looking back over an almost half-century career with a slight glisten in his eyes, the gin manager provided a farewell message to his membership.
"Just from where we started to where we are, this whole thing is a memory. I'll never forget it. Thank you. From the bottom of my heart, thank you. The Lord sent me over here to this gin."