By Lynette Cockerell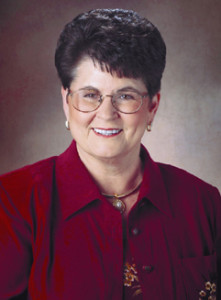 April 1, 2005, marked 37 years, five months, two weeks and two days of employment at PCCA for Carol Hunter. The following morning, she began day one of her retirement.
"I've looked forward to my retirement for quite a while, but leaving was more difficult than I thought," Hunter says. "After almost 38 years here, my job and the people at PCCA have become a large part of my life, and it feels like home to me. It was tough to walk out the door for the last time," she adds.
Hunter began working at PCCA as a part-time keypunch operator on Oct. 16, 1967. She quickly was hired as a full-time employee and was promoted to keypunch assistant manager. She worked her way up to keypunch manager before moving to the operations department where she acted as the operations manager and scheduler. In 1980, Hunter accepted a position in the programming department where she was promoted to programming manager and held the position of special projects manager at the time of her retirement.
"After high school, I attended Texas Tech University for two years and majored in education, but my life has taken me far from there," Hunter explains with a smile. "I was completely educated by PCCA. I'm very thankful to the coop for providing a supportive work environment where I was given the opportunity to learn new skills, gain valuable training, and advance my career within the company," she says.
Hunter has seen many changes during her career at PCCA. At the beginning of her tenure, she manually entered bale information onto a punch card to be read by a mainframe computer. The information was used to create a bale book which listed the dollar amount PCCA was prepared to offer for each bale. The bale book then was sent to the gin for the producer to consider.
In the 1970s, an electronic marketing system called TELCOT was developed. The system provided a centralized place for buyers and sellers to trade cotton via computers connected to PCCA's mainframe. TELCOT made the bale book obsolete and eventually became the foundation for The Seam, an online trading system which led to the conversion from a mainframe system to an Intel-based system in 2000.
"The introduction of TELCOT changed everything, ending forever the days of trading cotton armed with a bale book and telephone," Hunter says. "It also opened up new opportunities at PCCA especially in the area of computer programming."
PCCA also developed and patented an electronic title system (ETS) in 1989 which worked hand-in-hand with TELCOT. ETS was developed to eliminate the need for paper warehouse receipts, improve efficiency, lower costs incurred by gins and cotton buyers, and to expedite shipments to textile mill customers. Hunter was instrumental in the development of ETS. In fact, she is one of the PCCA employees listed on the patent.
"The development of ETS was one of the most exciting points in my career," Hunter remembers. "The conversion to an Intel-based system was interesting as well. We never would have survived the record-breaking cotton season of 2004 without the new system," she concludes.
Hunter now plans to move to Knox City, Texas, to be with her husband Johnny who farms cotton in the area. She hopes to concentrate on spending more time with her family which includes two sons, two stepsons, and seven grandchildren. Her co-workers and friends sincerely wish her well, but her presence will be missed at PCCA.
"Carol Hunter has been a valuable asset to PCCA through her hard work, dedication and leadership," says Joe Tubb, vice president of Information Systems. "Her experience and knowledge of PCCA has been instrumental in the success of nearly every project over the years where Applications Programming was involved, and she will be sorely missed."