By John Johnson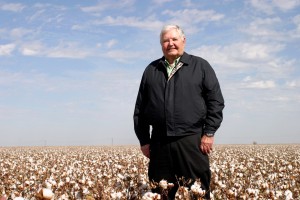 Throughout their history, agricultural cooperatives have been blessed with strong, capable, visionary leaders. Such leadership propelled many cooperatives to the pinnacle of success, enabling them to create significant added value for their member-owners.
PCCA, from its inception in 1953, has been the beneficiary of leaders whose only goal was to serve the coop's members to the best of their ability. In mid-2011, one of these leaders, D.C. "Compton" Cornelius, retired as chairman of PCCA's West Texas/ Oklahoma/Kansas Marketing Pool Committee after almost a quarter of a century of service.
"I've lived in Crosby County all my life," Cornelius says, "except when I was attending Texas Tech University and serving in the U.S. Air Force during the Korean War." Cornelius was the top turret gunner on a B-29 bomber and flew 27 missions during the war. After his four years of service, he returned to Crosby County and started farming in 1955.
Cornelius was elected to PCCA's Board of Directors in 1970 and helped oversee creation of the electronic cotton marketing system, TELCOT, and the extension of cotton marketing services to other regions. In 1973, he was instrumental in the merger of three coop gins and the construction of the "super gin" known today as Associated Cotton Growers at Crosbyton, Texas. Cornelius was elected to the new gin's first board of directors and served as secretary-treasurer from 1973 to 1993. He was elected president of the board in 1993 and served in that capacity until 2005.
Cornelius also played a pivotal role in the creation of the American Cotton Growers (ACG) denim mill in 1975 and the sale of the mill to PCCA in 1987. PCCA's first marketing pool was formed that year, and Compton was elected to the pool's oversight committee. He was elected vice chairman of the committee in 1988 and chairman in 1998.
His leadership extended beyond his local and regional cooperatives. He served 40 years on the White River Lake Board of Directors and 12 years on the Cotton Board headquartered in Memphis, Tenn. He was named Cooperator of the Year by the Texas Agricultural Cooperative Council.
Cornelius and his wife, Ann, are avid Texas Tech sports fans. They attend all home football games as well as men's and women's basketball games. They also have traveled with the Lady Raiders to Hawaii three times, Cancun, the Virgin Islands and Canada, and they will attend the women's Big 12 Basketball Tournament in Kansas City this March.
"I have been fortunate to witness many great changes and advances in the cotton and cooperative industries during my farming career," Cornelius says. "It has been a fascinating journey."