By Jayci Bishop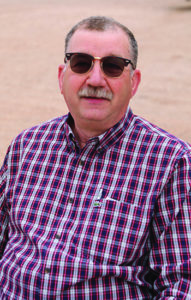 Forty-one ginning seasons deep, Curtis Stewart has learned that no two days in the cotton industry are the same. From managing employees to being custodians – gin managers can wear many hats. For all the hats he wears, Stewart was honored as Ginner of the Year by both the National Cotton Ginners Association and the Texas Agricultural Cooperative Council earlier this year.
Stewart grew up in Tahoka, Texas, and graduated from Texas A&M University with a Bachelor of Science in Mechanized Agriculture. Following graduation, he joined a training program for cooperatives in Lubbock and worked for a few cotton cooperatives, including PCCA, Farmers Cooperative Compress, and New Home Co-op Gin. Stewart later earned an Agriculture Engineering degree from Texas Tech University while working at the USDA South Plains Ginning Laboratory in Lubbock. He relocated to Casa Grande, Arizona, to work as an engineer for Chickasha Cotton Oil Company before becoming president of Dumas Cotton Gin in Dumas, Arkansas. He spent 16 years in Arkansas before he moved back to West Texas in 2011 to join Spade Co-op Gin as General Manager.
A day in the life of a gin manager can vary depending on the time of year. Stewart said he strives daily to serve his members and fulfill the responsibilities his growers have entrusted him to do.
"I hope I have a good relationship with them," Stewart said. "It is rewarding when they come in and ask for knowledge. I have covered lots of things and to be able to draw on that knowledge and help with things, be it sprinklers, be it irrigation, be it life experiences. As the gin manager we get to do everything from counseling to almost anything. It is many hats, many days."
Spade Co-op is continually innovating and looking toward the future. Stewart is a proponent of the co-op business model and tries to add value to growers' cotton at any opportunity. Serving members is a true cooperative principle he lives out daily.
"There is a whole lot of technology coming in," Stewart said. "We are having to trade labor for capital. We are working with the USDA Gin Lab on our plastic protection. We have helped them and have equipment installed out here that they are looking at trying to help the industry and ourselves stay on top of that."
Like any profession, cotton ginning has both its rewards and challenges. Challenges can be difficult days or entire ginning seasons. The 2017 season stuck out in Stewart's mind as particularly difficult.
"I think 2017 was a challenge when we had the stick year," Stewart explained. "It was a challenge to get through that year. It was one of the hardest years that I can remember. Just the way the cotton came off the stalk, it just did not gin. It slowed operations and tried everybody's souls."
He said he enjoys looking back on each day, what challenges they faced, and what they accomplished. However, some trials gin managers face may be better viewed as opportunities.
"I think it is coming to work and really not knowing what the day holds," Stewart said. "I get to be everything from the cotton ginner to the custodian. It is procurement to politician. It is a challenge, but it is an opportunity, not a threat. You just get up, and you don't know what is coming."
Stewart is no stranger to serving the cotton industry. He served two years as NCGA president and is the outgoing NCGA chairman. He is a past president of Southern Cotton Ginners, Planters Cotton Oil Mill, and Dumas Cotton Warehouse. A graduate of the National Cotton Council's Leadership Program, he has served on multiple NCC committees, as a NCC director, and director of Cotton Council International. He is also the past chairman of the Joint Cotton Industry Bale Packaging Committee.
Stewart was named National Ginner of the Year by NCGA. The annual NCGA honor is awarded to a ginner in recognition of, "able, efficient, and faithful service to the ginning industry, and continuing those principles exemplified and practiced by Horace Hayden, a former NCGA executive secretary." He also was named Ginner of the Year by TACC based on similar merits. Stewart said he was honored to receive the Ginner of the Year awards. He was shocked his wife could keep the secret for many months.
"I was proud and humbled," Stewart said. "I was proud for my folks, my producers, and the people that have supported me and helped me do that. I have said before – something that kind of comes out of the Mid-South – if you see a turtle on a fence post, it did not get there by itself. So that is really how I feel."
The success in his career did not come without support and sacrifices, mainly from his wife and two sons.
"It is one of those things that you have to make sacrifices for, ginning cotton the way we do," Stewart said. "I said that during the acceptance of the National Ginners award. Both of my kids got with me after that and told me they did not feel slighted when I was not there, because this thing comes first. My wife, Susan, becomes chief cook and bottle washer when I am here. That is something that takes a special, special person and I love and respect her for that because she is the rock at home while I am here."
Stewart may be a man of many hats, but the people matter most in his life. He has dedicated his career to serving cotton growers and has enjoyed it every step of the way.
"Spade Co-op is a great bunch of producers that really support their organization here," Stewart said with pride. "It is fun to work for them, and there is lots of support."
What does a day in the life of a gin manager look like?
"We are everything from procurement to custodians. We are making sure the plant is ready to run. Making sure that we have the people to do that. Keeping all the paperwork from all the programs going. You've got ancillary things like fuel and inputs; they are overseeing that. It is a vast list of things that some of us do."
How would you encourage others to join the cotton industry?
"I have less seasons in front of me than I have behind me. It is a great place to come. There are fewer and fewer of us as we consolidate and places get bigger, but that means there are bigger opportunities for those that come behind us. I hope those that come through and look don't get discouraged, and truly look and see what we do because it is a great industry. Follow us around and find the internship. Don't get discouraged."