By CassiDe Street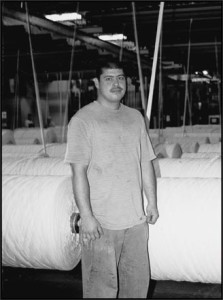 Joe Ward, die range creeler for the ACG denim mill, can be described by using many words, but there is one word that stands out over the others; dedicated. Ward is dedicated to his family, dedicated to his job, and dedicated to his country.
Army National Guard Specialist Ward, 2-142 infantry, spent the past year in Iraq serving his country. Larry Lundberg, ACG die range superintendent, knows Ward from working at the denim mill.
"Joe is a great worker and gets along well with others," Lundberg said. "He takes pride in everything he does from working at the denim mill to serving his country."
Ward grew up in Plains and Post, Texas, and now lives in Levelland, Texas. He and his wife, Felicia, have two boys; three-year-old Josiah, Javontavios who will be two in August, and they are expecting another child. He recalled how he became interested in the National Guard.
"A recruiter from the National Guard came to my high school, and I went down to listen to him so I could get out of class," Ward said. "I was talking to him afterward, kind of messing with him and had no intentions of signing. The next thing I knew, he was knocking on my door, and I signed."
Ward has been with the National Guard for six years and worked at a radio relay point during his tour of duty in Iraq. The soldiers lived in a simple, air conditioned mobile home, Ward said. He also patrolled the roads looking for bombs and potential ambushes and monitored traffic with the Iraqi police.
"It was really hard to communicate with the police, even with the interpreter we had with us," Ward explained. While off duty, he and other soldiers constructed a basketball goal to help remind them of life at home.
"Our friends and family sent us supplies to make a basketball goal," Ward said. "My wife sent us a rim so we didn't have to use the bucket we had at first."Ward said the soldiers also had weights to lift and an Xbox machine to play with to help pass the time and keep their spirits high. He said he missed his family the most while in Iraq but learned some valuable lessons.
"I learned that I took a lot of things for granted," Ward explained, "such as the freedoms we have of getting in a car or sitting on a porch." Ward returned home on Dec. 5, 2005, and took his family out for a celebration dinner. He now enjoys spending time with his family, playing basketball and football, and working on his new motorcycle.
"Joe is quiet and shy but overall a nice guy, and all of us are proud of him," Lundberg said. Ward has reenlisted with the National Guard for six more years and had this advice for fellow soldiers going to Iraq.
"Pay close attention to your surroundings and never get com-fortable," Ward explained, "because you never know what will happen next."