By Lynette Cockerell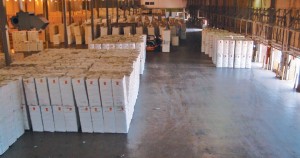 Texas, Oklahoma and Kansas cotton producers are calling 2005-06 a banner year with the largest crop on record. Although producers and ginners are pleased with the immense turnout, a crop of great magnitude left many in the industry wondering, "Where are we going to put it?"
The Warehouse Divisions of PCCA quickly set a plan into motion to store as many bales of cotton as possible indoors and to process the cotton in a timely and systematic manner. Managing back-to-back record crops is not easy, but having already been through the experience of a big crop the previous year, many lessons were learned, and employees were far more prepared to handle the avalanche of cotton streaming into the warehouses in 2005-06.
When Texas produced nearly 7.8 million bales in 2004-05, most industry observers thought the record surely would never be broken. As if right on cue, the record was shattered in 2005-06 when an estimated 8.2 million bales were harvested throughout the state. However, Texas was not the only state breaking records.
In fact, all three states in PCCA's service area increased their cotton production. Kansas producers delivered 71,000 bales in 2004-05, and 90,000 bales in 2005-06. Oklahoma cotton farmers produced their largest crop ever in 2005-06 as 365,000 bales were harvested in the state compared with 303,000 bales the previous year.
Warehouse employees had no down time between seasons. Cotton shipping normally slows by the first part of May, but the 2004-05 crop still was being shipped in late August. Their work was doubled when the 2005-06 crop started trickling in by Halloween, and a new receiving year began. Harvest weather was ideal, but the immense size of the crop resulted in a longer than average ginning season, and the bales steadily flowed into the warehouses.
Although most gins normally hope to be finished ginning by Christmas, a handful of Texas ginners still were scrambling to finish handling and processing the huge crop in mid-March. Therefore, bales still were making their way to the warehouse at a point in the season when business normally starts to slow down a bit.
In order to store the greatest amount of cotton indoors as possible, PCCA built new warehouses at Rolling Plains Cooperative Compress (RPCC) in Sweetwater, Texas, and at the Oklahoma Cotton Cooperative Association (OCCA) location in Liberal, Kan.
Building enough warehouses to contain the record crop was not cost effective, so OCCA leased an additional storage facility in Frederick, Okla., to help contain the overflow of cotton. RPCC leased facilities throughout the High and Rolling Plains of Texas. The additional storage in Abilene, Hamlin, Post, and Lubbock, Texas, has allowed virtually all of the cotton received by RPCC to be stored under roof.
Several new warehouse employees and some creative scheduling by warehouse management were required to run both the new and leased facilities. The three PCCA warehouse locations occasionally have shared employees for several weeks by sending workers where they are most needed. PCCA's Textile Division has, on occasion, sent workers from American Cotton Growers (ACG) to assist at several of the warehouse locations.
"It's good that we can call on other divisions within the company when we need assistance," said Dean Church, PCCA's vice president of Grower Services. "More importantly, it's great to know we have many dedicated employees who are willing to step up to the plate when we need some extra help."
Extra help often means long hours. In an attempt to ship and receive cotton in a timely manner while constantly re-stacking cotton to move more bales off the yard and into closed storage, many warehouse employees have been working up to seven days a week and often log 80 to 90 hours on the job in that period. Their long hours and dedication to their job has not gone unnoticed.
"We sincerely appreciate the sacrifices our warehouse employees have made in order to get the work done these past few seasons," Church said. "We know they've sacrificed family time and have given up valuable rest time for PCCA, and we certainly wouldn't be where we are today without their dedication and hard work. We couldn't be more proud of our employees," he concluded.