by Blair White
When I came on the board, I was a kid," Eddie Smith said with a grin and a twinkle in his eye. "I didn't realize they called me the kid because they didn't do it in front of me. I remember hearing someone say, 'Is the kid here yet?' and I thought, 'who are they talking about?' It was me." 
Former PCCA Board Chairman Eddie Smith joined the board at the age of 38 in 1987. He became chairman of the board in 2004 – a strong and steady presence that would last for 16 years. His legacy in the world of cotton and co-ops began long before that, though. 
"I started farming in 1973," Smith said. "Actually, I've been farming all my life, but when I got out of college is when I started really running my own operation. My dad and I went into a partnership in '73, so this is year 48." 
He was also very involved in the Floydada community during this time. Elected to the board of Floydada Co-op Gin in 1986, his industry involvement only grew from his grassroots starting point. About a year after he joined the gin board, Smith stair-stepped into PCCA.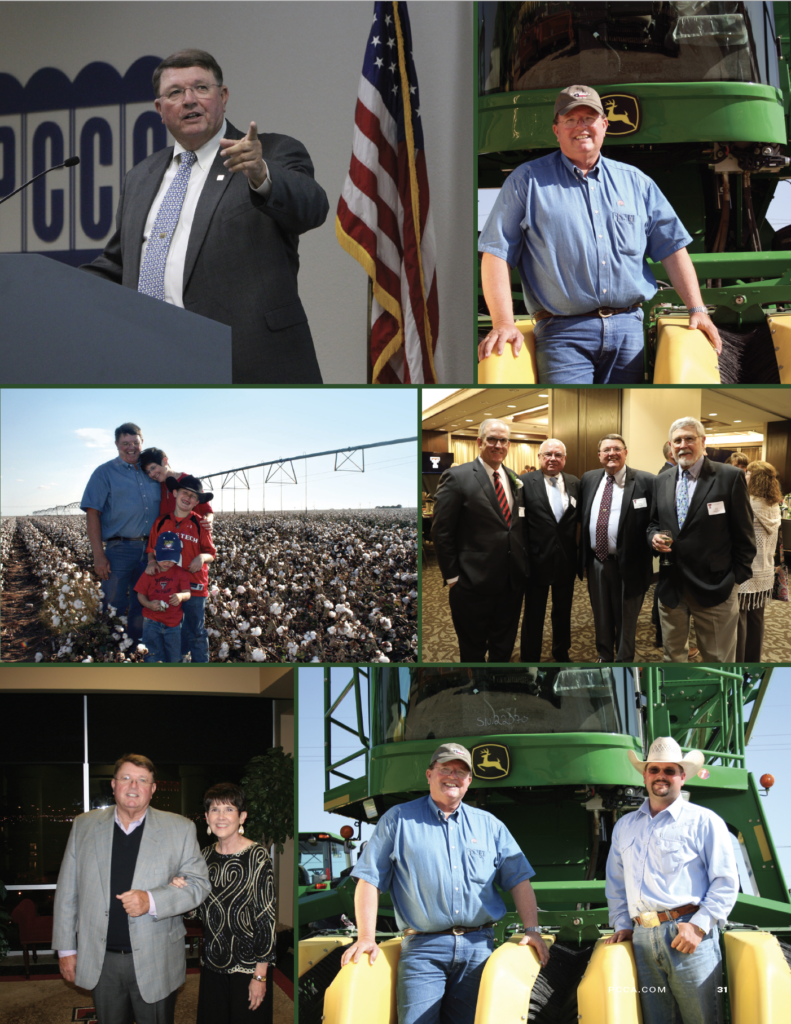 "We were looking for delegates to go to the different regionals, and I volunteered to go with PCCA," Smith said. "One of the guys I knew said, 'I think Eddie would be good!' so guess what? I got the railroad job real fast." 
Three years after joining the PCCA Board of Directors, Smith was elected to the Cotton Incorporated leadership program. Beginning as an alternate, he was made a board member the following year and continued in the officer rotation until stepping into the chairman position in 2002. During his tenure, Smith helped lead cotton research and promotion to increase cotton's profitability for all growers. Along with his wife of 50 years, JenniSu, he established irreplaceable relationships and friendships throughout his time there. 
When Smith took his position as PCCA Board Chairman in 2004, he became a significant part of the cooperative's history. Smith's leadership was the steady hand PCCA needed from the denim mill days to helping PCCA return cotton to its rightful place as a Title I commodity. Later, Smith navigated the organization through the uncertainty of 2020, one of the most challenging years in recent history. 
In 2008, Smith's industry involvement led him to travel with a delegation from the National Cotton Council to China.
"I always wondered what that side of the world looked like, and you know what?" he said. "Their dirt is just as brown as mine; they just have different cultures and ideas. I really enjoyed that trip." 
In 2010, Smith took the helm of the National Cotton Council. He worked with the council and government officials to influence policy and legislation favorably for the cotton industry, no doubt helping shape the industry as we know it today. 
Whether it be new and improved leadership styles or cotton industry advancements, Smith has always had a penchant for innovation. He recently influenced the design of John Deere's CS770 Cotton Stripper with fellow board member Dean Vardeman. Smith also works with other agriculture companies on testing new cotton seed varieties and implementing precision spraying. He uses conservation tillage on his farm. Growing cotton in wheat cover is his preferred method of increasing sustainability, not to mention saving man-hours on the tractor. Improvements and efficiency come as no surprise as Smith's father was always supportive of his new farming ideas, and Smith now supports his own son's innovative ways. 
"It was challenging, you know; we had our different viewpoints, and I was young," Smith said. "I understand it better now as Eric is coming back to the operation. He brings a different perspective and different ideas into it. I learned to admire my dad because he was a lot more tolerant than I realized when I was growing up. I had an idea, and he was willing to take the chance. We tried a lot of different ideas and it was good. Just because your father does it or did it doesn't necessarily mean it's the best way to do it. Keep your eyes open, be flexible, and be willing to take opportunities when they come along. One thing in life that is going to be very constant is change. We are looking forward to those changes being productive and also financially rewarding." 
Smith's love for every facet of the industry has grown through farming with his father, and now his son and even his grandsons are part of his legacy. His forward-thinking attitude of service and leadership was and still is, second to none. 
"He loves this field," said JenniSu, Smith's wife. "He loves his cotton so very much. He loves the industry so much that he wants to be there to make things better and to give new ideas. Our grandsons both help out on the farm when they can. They're more involved with Eric's side of the operation, with the cattle and beef industry. To see them, the three of them as they work together, Papa comes up and he doesn't get on a horse like them. He gets in his horse with the four wheels and the steering wheel. They are all four growing together." 
As his industry career came full circle, Smith offered this advice to those wanting to increase their cotton industry involvement.
"Be engaged on the local level to start out. Don't ever lose your roots," he said. "Make sure you are representing the people where you come from. Engage with the people that you are around in the different organizations you might be involved with. Be outgoing, be forward with people and let them know where you stand, and listen to their perspectives on things. Your gin is your entry-level in many respects because that's where everything begins, whether that be Plains Cotton Growers, PCCA; there are opportunities out there if you want to do that. Your gin can help you and give you guidance on how you can get involved in different organizations. From there, you stair-step into the industry organizations such as Cotton Incorporated, The Cotton Board, the National Cotton Council, and Cotton Council International. My suggestion is to go back to the gin level and visit with the people that are leaders and get insight on how they accomplish things or what they see as opportunities to get more involved and engaged." 
Smith reminisced about the adventures and good times he had during his leadership time and said he thinks the future is bright for PCCA and the cotton industry. 
"Thanks for the memories; it's been good," he said. "I am just thankful to have had the opportunities. I don't have any reluctance in doing what I am in stepping back because I can see there are people that need those opportunities like I had. I think PCCA is as strong as it's been since my beginning. I think we are what our roots started us out to be, a marketing association. I think we are very well-suited staff wise and with the policies that we have in place, we will be a great marketer in the future going forward. It has come full circle." 
Newly elected board member Dane Sanders is Smith's successor in representing PCCA's District 4. 
"Dane is one of those guys that would quiz me about what we were doing at PCCA," Smith said. "He's more of a marketing kind of guy, he likes numbers, and I think he is a great fit for PCCA. My advice to Dane is to keep your ears open because there's a lot to learn. The learning curve is pretty steep in the beginning, but he is well-suited, well-educated and well-spoken. He meets and greets people well. I am excited about him and the relationship he will have with PCCA."