by Jayci Bishop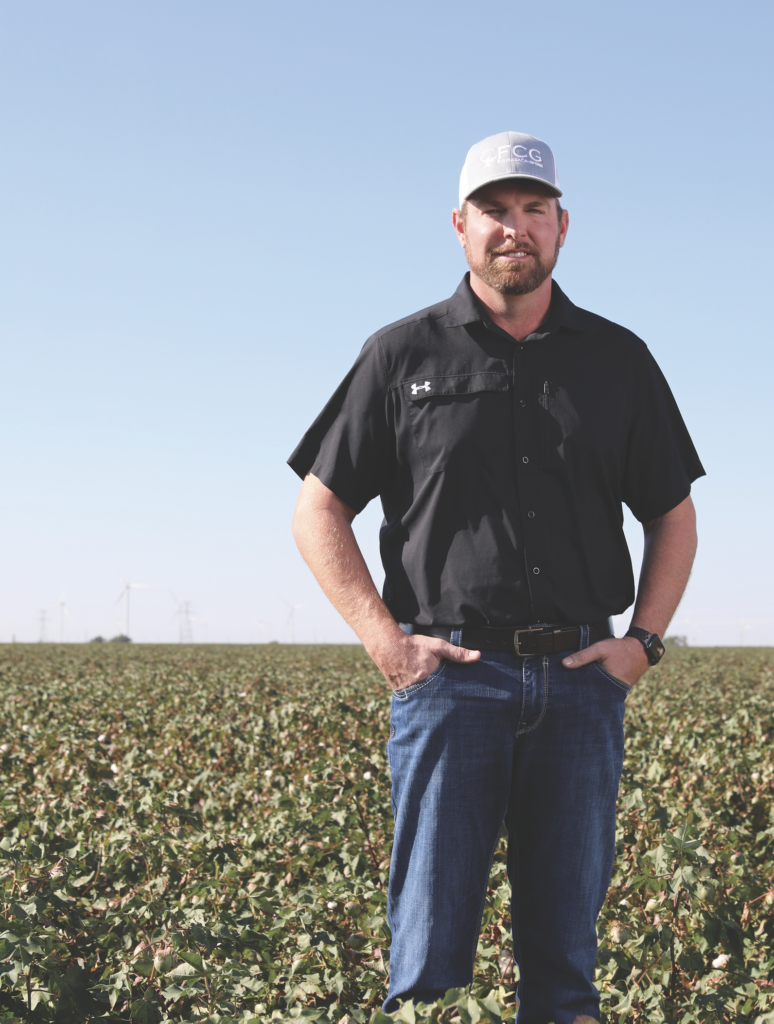 Family comes first for fifth-generation farmer Dane Sanders. He was raised in the South Plains community near Floydada, Texas, and grew up watching his two grandfathers and father farm. He knew at a young age farming was the lifestyle he wanted for himself and his family. His motivation, farm, and work ethic are all centered on his faith and his loved ones. 
"I loved it from day one," Sanders said with a smile. "My dad was taking me with him when I was still in diapers. It was just a passion I always had for agriculture. I guess I always knew I wanted to farm." 
Today he is proud to carry on the tradition of raising his family and crops just as he was. Dane and his wife, Robin, were high school sweethearts and have three children: Graham (13), Ansley (10), and Sadie (6). 
"There's something to be said about being able to instill the wholesome values and work ethic that comes along with farming," Sanders said. "Farm kids tend to, whether they want to or not, learn from a very early age that there is value you get from working. Whenever you are plowing a field or raising a crop, you can see start to finish what you have accomplished. I feel like there is no better way to raise a family than on a farm. It also teaches you a lot about having faith in Jesus. There is no way that a farmer can do that without having faith because there are so many things that are out of our control." 
Sanders began farming in 2002 while attending Texas Tech University. He graduated in 2003 with a degree in agricultural and applied economics and immediately began farming cotton, food corn, and winter wheat. Sanders and his dad have separate entities but work closely for economies of scale. 
"I was fortunate enough to grow up with both my granddads around," Sanders said. "They had their farming operations and my dad had his, and then whenever I started, I was able to jump right in." 
Hard work, perseverance, and faith help Sanders cope with the challenges that come along with farming. 
"There are some things that we can control, and you do your best at controlling those, but there are so many things that are out of your control," Sanders said. "You kind of have to roll with the punches. There's good weather and bad weather. You could have done everything perfectly right, and one storm can bring you to your knees. If you continue to persevere and work hard, chances are you can survive and support your family." 
Cotton farming is not for the faint of heart in today's climate of unpredictable markets and ever-increasing input production costs. Despite the challenges, Sanders said he truly enjoys agriculture and seeing the rewards of his hard work come to fruition. 
"It is fun for me. It is a new challenge every single day," Sanders said. "I like the fact that it is different at different times of the year. There is always a challenge that you have to address. I guess I like trying to solve problems. Maybe farmers are all a little bit crazy. We are all kind of gamblers at heart. We take everything that we have worked for, and we risk it every single year. Whenever the stars align, or whenever everything works out perfectly – it is pretty exciting." 
Like most farmers, Sanders is continually looking for ways to increase efficiency and profitability. As a result, he has implemented precision planting and irrigation techniques into his farming operation. 
"We have a finite amount of resources, and we try to be able to generate the best crop at the lowest cost we can. It's all about maximizing our return on investment," Sanders explained. "It is amazing how much farming has changed in the 20 years that I have farmed. It has had to because our profit margins are so thin that without these technology advances, I do not know if we would be in business today." 
Ensuring your farm is successful extends beyond the turn row and looks different for everyone. For Sanders, serving his community and using his voice for good is another significant value instilled in him at a young age. 
"My grandparents and parents have served in the community their whole lives and they just instilled that value in me that it is important," Sanders said. "If we want to have a seat at the table, then someone has to step up and do that. I have served throughout the last 20 years in my community and through different roles. It is just important. Someone in Washington, DC, or Austin can make a decision with a stroke of a pen that affects every single one of us more than maybe the next decision on my farm. Someone has to be telling our story. I think that anytime your input or voices can be heard, it is beneficial." 
Sanders is active in his local church. He serves on the board at Floydada Co-op Gin and is PCCA's newest board member representing District 4. He has also served in Floyd County Farm Bureau, Texas Farm Bureau, and American Farm Bureau. 
"My predecessor, Eddie Smith, left some huge shoes to fill," Sanders said. "I want to learn as much as I can about PCCA, and if I see ways that my input or opinion can benefit the majority of growers, then I will absolutely share it. I was talking with the Board of Directors, and I am the youngest by 19 years, which is a little intimidating. Also, there are a lot of guys my age and younger that are farming, and their voices and opinions need to be heard. What worked for someone who may be a lot further along in their career might not work for someone who is just getting started, so I think I have some insight to contribute there." 
He is looking forward to learning more about the day-to-day operations of the cooperative, but one thing he knows for sure is PCCA works to the benefit of its grower-owners. 
"PCCA's services that they provide to the local gin are top-notch, second to none," Sanders said. "Number one, every single one of us who gins at a co-op are reaping the benefits of the technology that is available with the ability to see real-time data as our crops are being processed at the local gin. Equally as important are the marketing options available. My bales that I produce are pretty small in comparison to what PCCA handles as a whole. There are benefits that can be gained from PCCA by lumping a huge group of bales together and they can typically get a better price than I can just selling mine individually." 
Beyond PCCA, Sanders knows the value of having ownership in multiple levels of the supply chain. 
"There is something to be said about having ownership of that crop from the time I plant the seeds until the time it is sitting in the warehouses or on its way to the end user," Sanders said. "Every piece of that stage, whether it is on the farm, at the local gin, at PCCA, the warehouse, or the oil mill at PYCO – whatever profits are generated there I get my share by being a grower-owner. Whenever they are run right, they can be hugely successful and whatever profit that each one of those pieces of the supply chain generated, I get my piece of it."