A new cooperative oil mill has entered the market. However, new pertains more to its name since the company has strong, established roots in the cotton oil business.
PYCO Industries, Inc., an acronym for Plains Yazoo Cotton Oil Mill, became reality October 1, 1999, following the merger of Plains Cooperative Oil Mill and Yazoo Valley Oil Mill. PYCO now is the second largest oil mill of its kind with a 37 percent share of the cotton oil market.
Gail Kring, Sr. Vice President, says the merger was initiated following a study of the six remaining cooperative oil mills in the Mid-South. The study, produced by CoBank, looked at the potential profitability should the six cooperatives merge to form one large coop. Such a consolidation would have enabled the new company to control 63 percent of the U.S. cotton oil business, making it a dominant supplier to end users.
"Through politics and other factors, four mills dropped out, and it ended up that Plains and Yazoo were the only two left," Kring explains. The new coop has a combined membership of about 130 gins from Mississippi, Arkansas, Louisiana and the High Plains of Texas.
Yazoo Valley, located in Greenwood, MS, has a long history in the cotton oil business. It began operating as an independent mill owned by Buckeye Cellulose in the early 1900s and became a coop in 1957.
Plains Cooperative Oil Mill was started in 1936 by 25 coop gins on the Texas High Plains. The region's farmers at that time were upset by what was known as the Dallas differential, the difference in price they received for their cottonseed compared to seed harvested downstate, and decided to start their own mill.
Kring says the merger of these two successful companies will provide many advantages that will aid the new coop in its mission of pushing value-added products to the end user. One benefit is access to a larger supply of cotton oil.
"The end users have all merged, and they want to be able to deal with someone who has large quantities of oil," Kring says.
With more supply, PYCO also can gain a larger base of customers to which it can market its products. Its larger size also will enable the cooperative to bargain and buy raw materials used in processing, such as hexane, caustic soda and bleaching clay, at cheaper prices.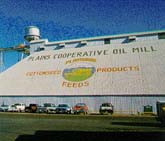 Like most mergers, the coop will experience a reduction in overhead and related expenses. However that accompanies the disadvantage of some lost efficiency since the company is operating in two distant locations.
"That is just part of the complexity of any multiple operation," Kring says. But, operating out of facilities in two areas of the country will increase PYCO's ability to service a national restaurant chain someday, a goal toward which it is currently working.
"Our research shows that we need to get into the restaurant industry," Kring explains. More than 56 percent of meals are eaten out of the home, according to Kring. PYCO is focusing on marketing what is called the "jug in the box," a 35-pound container of oil, to this growing industry.
Since the two companies were working on consolidating since late spring, Kring says that most of the merger's transitional changes already have taken place.
"The early thing we did was get the right personnel in the right place," Kring says. He is unaware of any other changes as of now but feels future changes probably will be made in technology and processing. According to Kring, PYCO has received positive response to the merger.
"Our members want to see us grow and get larger," Kring says. He adds, however, that there are always a few negative responses to change.
"One concern has been about crop failures on both sides of the country," Kring says. He reports that Mississippi is expected to harvest an average to good crop this year, while a similar crop is anticipated on the Texas High Plains. Because PYCO has two locations with such geographical diversity, there is less chance for there to be a crop failure in both regions in the same year.
"If one side of the country has a bad year, then most likely the other side can help make up for it," Kring says.
With the continued production of cotton oil, cottonseed meal, hulls and linters, PYCO is excited about facing competition and establishing a greater presence in the market.
"Our main goal is to enhance the value of a ton of cottonseed for the producer," Kring says. "We try to accomplish this through value-added products, efficiency and the benefits gained from the strengths of the two organizations."