By Sarah Hossain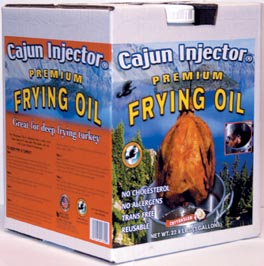 PYCO Industries has a new product out on the market. The Lubbock-based cooperative oil mill has teamed up with Bruce Foods, Inc., in Louisiana to create a 3-gallon jug of "Cajun Injector" cottonseed oil. The product, which can be used for cooking and frying, will be available as part of a test market at several Gander Mountain outdoor stores throughout Texas, Kansas and Kentucky. Gander Mountain currently has 98 stores in 18 states.
If the test market is successful, "Cajun Injector" will be sold in all Gander Mountain stores, according to a PYCO official.
Cottonseed oil is the main product marketed at PYCO Industries, the largest cottonseed cooperative in the southern United States. In addition to producing cottonseed oil, the cooperative also markets whole cottonseed and the byproducts of cottonseed processing such as cottonseed meal, cottonseed hulls and linters. The marketing of these products allows PYCO Industries' members to enjoy access to a much broader market and added value for their products.
The cottonseed oil PYCO produces is used for snack foods as well as frying oil and is a major supplier to these industries throughout the United States.
Craig Moore, PYCO's director of field services and packaged oil, said that cottonseed oil has a high smoke point and flash point. Moore also said it has some health benefits other cooking oils do not offer.
"It's non-allergenic and won't carry the flavors of other foods," he said.
Moore added that the cottonseed oil itself also is sold at United Supermarkets under the brand name "Plainsmen," at Bass Pro Shops under the brand name "Uncle Bucks," and at Academy Sports and Outdoors under the brand name "Turkey Gold." Mills Fleet Farm stores in Wisconsin and Sportsman's Warehouse stores in Utah also carry the "Turkey Gold" brand.