By Lynette Cockerell
With the 2003 cotton season well underway, the increasingly volatile market has turned its attention to production concerns as it now appears global demand for quality fiber will be strong in the upcoming year.
In its second forecast for the 2003-04 marketing season released on June 11, USDA projected a 1.5-million-bale decrease in U.S. ending stocks. Carryover stocks are projected to fall to 4.5 million bales by the end of the marketing year on July 31, 2004. The 2003 U.S. crop is forecast at 17.2 million bales, the same as in 2002 but 3.0 million bales below the 2001 harvest. Domestic cotton consumption is projected to decline another 200,000 bales, falling to 7.2 million bales during the coming season.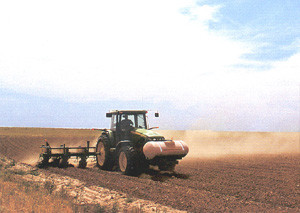 The shining star in the upcoming year is expected to be the same one the market clung to last season, although it should be even brighter. Exports are projected to climb by a half million bales to a record 11.5 million. The significant increase in U.S. exports is based on reduced foreign supplies and record world consumption.
"The supply and demand balance looks promising throughout the world," said David Stanford, PCCA's vice president of marketing. "USDA expects 99.0 million bales will be consumed globally; therefore, a large crop must be produced," he explained.
The production of a large global cotton crop depends heavily on weather conditions. As of this writing, a series of weather-related problems were facing cotton producers throughout the Northern Hemisphere. In the U.S., California's crop was seriously behind schedule, many West Texas producers were faced with the decision to replant cotton following excessive rain and hail, and parts of the Delta were under water. Consequently, some acreage there was expected to be replanted. Significant weather events also were restricting development of the Chinese and Central Asian crops as well as those in Australia and Uzbekistan.
In addition to volatile weather conditions, the market will pay close attention to the strength of the U.S. dollar. At present, the dollar has weakened and made U.S. cotton more attractive to foreign buyers and boosted export sales. An increase in U.S. cotton sales to China also could result if the present scenario continues.
"There has been a large improvement in U.S. cotton prices from one year to the next," Stanford said. "Although there was a severe correction in cotton prices on the New York Cotton Exchange in May of 2003, the fact is cotton prices are higher than they were last season," he added.
"The demand is there," said Stanford. "Now, producers must focus on making a quality crop because there definitely will be a demand for cotton in the upcoming year."