By Kelly Padgett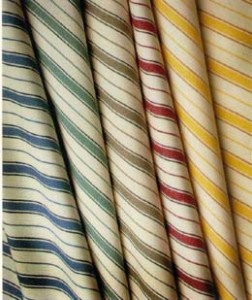 Mission Valley Fabrics' (MVF) home furnishings business is flourishing with the help of new equipment, a new division and age-old support. The new Home Division of MVF includes upholstery products, bedding and a creative department.
Shams, sheets and pillowcases fit into the bedding category with such customers as Westpoint Stevens (Ralph Lauren Home), Revman (Tommy Hilfiger) and Springs Industries. The upholstery category of sofas and chairs includes Broyhill, La-Z-Boy, Ethan Allen and Allan White as customers. The creative department of the division services more than 1,200 customers in categories such as small fabric and quilt retailers, large fabric retailers and small manufacturers of all types.
David Harrell, national accounts manager for the Home Division, says even though MVF still is relatively small in the scheme of the market, "there is a lot of growth potential. Having all three categories managed under one division is a smart business decision. By centralizing the sales and design teams to focus on the home, we should see increased sales for each category within the next year."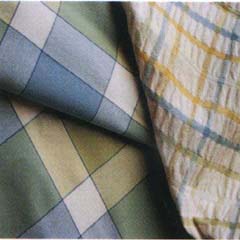 PCCA's commitment to modernizing Mission Valley's equipment is the key to the success of the Home Division. This includes the installation of new double-wide air jet looms at the MVF plant in New Braunfels, TX, which will increase the production capacity and cost efficiencies.
"We are now ready to compete with any yarn-dye mill anywhere," says Harrell.
The International Home Furnishing Market, a bi-annual trade show for the upholstery and home furnishings industry, provides additional growth opportunities for MVF. For one week in October and in April, 8.5 million square feet of showroom floor space is filled with both domestic and foreign manufacturers' lines of upholstery and home furnishings. Approximately 80,000 customers gather in High Point, NC, to look at and buy merchandise that will be displayed in their retail stores.
The "Market" has helped MVF develop relationships with such retailers as JCPenney, IKEA, Pottery Barn, Sears, Target and Krause's.
"High Point is the heart of the international home furnishings industry," says Harrell. Other regional markets in Dallas, Atlanta and San Francisco have seen significant losses in their customer base over the past several years, according to Harrell. Meanwhile, MVF's upholstery and home furnishing product lines have expanded during the last two years.
"We are very excited to be able to show our customers denim products and cotton prints in addition to our yarn-dyed fabric. Our customers kept telling us, 'We love your plaids and stripes, but we can't find a print to match.' Now we can sell them the complete package." Harrell says this expansion has come at an excellent time. Trends in the home are becoming more casual and cotton is becoming more popular.
"You primarily see synthetics at the furniture market, but cotton's share of the market is gaining ground," Harrell explains.
MVF has a successful reputation in the textile industry because of its commitment to quality products and excellent customer service. With the technological modernization and experience of the employees, MVF is well positioned to become a major player in the home area.