Diamond Apparel, LLC, Now Using Coop's Denim
By Tiffany Munson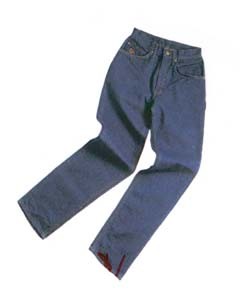 Plains Cotton Cooperative Association (PCCA) continues to identify and recruit new customers, and one of the most recent is Diamond Apparel, LLC. The company recently began making its Diamond Cut Jeans with PCCA denim.
Diamond Apparel is a small, family-owned business whose goal is to produce the highest quality jeans made with American products and labor. It began as a small, mail order business and has acquired 10,000 mail order customers, about half of whom are repeat customers. Since August 1999, Diamond Cut Jeans production has grown from 300 pairs of jeans per month to approximately 3,000 pairs per month.
Doug Hasell, president of Diamond Apparel says, "When we started out, retailers had no interest in our jeans, but we now have our product in more than 40 retail stores." Hasell says he plans to expand his retail sales outlets and is averaging about two additional store outlets per week.
Diamond Apparel advertises largely at rodeos and fairs, in magazines and online. Thanks to its online website, products also have been sold to customers in New Zealand, Germany, Russia and France.
What makes Diamond Cut Jeans unique and unlike other brands is the gusset located in the stride. The gusset is a triangular piece of fabric sewn into the stride to reduce and redistribute the stress that eventually tears the crotch area of jeans. Hasell says that many PRCA cowboys wear his jeans because they "don't wear out as quickly as some other brands, and the comfort level is unmatched."
"What makes our jeans the best is the gusset (because it redistributes stress), American labor, and good quality denim," says Hasell. He is very pleased with the denim he buys from PCCA's American Cotton Growers denim mill at Littlefield, TX.
"This denim is superior to what we were using. It washes out very nice, especially the stonewash."
Hasell says to PCCA members, "We are a small, family-owned company using your denim and making what I feel is the highest quality product on the market. The more we sell, the better it is for everybody. Ask for us at your favorite stores."
Diamond Cut Jeans are endorsed by a number of country artists including nationally recognized Rhett Akins and The Charlie Daniels Band, the newly acclaimed Chad Brock and regional artist Johnny U. According to Hasell, the endorsements "have really boosted sales."
Diamond Apparel also has teamed up with Don Endsley and the Wild West Show, a grandstand show patterned after the "Buffalo Bill" show that includes trick ropers, stunt riders, a stagecoach robbery and many more thrilling acts. The company also is a proud sponsor of the Coastal Team Roping Association and the Original Team Roping Association.
Diamond Cut Jeans can be found in retail stores including Baskins department stores located in East Texas and Horse & Rider in McKinney, TX. Customers also can visit and purchase Diamond Cut Jeans on-line at www.djeans.com or call 877-4GUSSET.