By John Johnson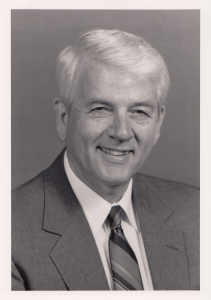 West Texas agriculture, especially the cotton industry, has benefitted from visionary leaders throughout the region's history. Men like Roy B. Davis, who helped create Plains Cotton Cooperative Association in 1953 while he was president of Plains Cooperative Oil Mill in Lubbock, and others could see opportunities and make them a reality. One such visionary was not a native West Texan, nor did he live or work in the region, but he did as much as anyone to propel West Texas cotton to the status it enjoys today.
Jesse Moore grew up on a cotton, peanut and tobacco farm in south Georgia. After graduating from the University of Georgia with a degree in agriculture, he served four years in the U.S. Air Force. When his service ended, he began looking for a job.
"Since my degree was in agriculture, I began applying for jobs at several USDA agencies," Moore said. "The first to make an offer was ASCS, which today is known as the Farm Service Agency, and I quickly accepted. In 1975, I was named director of the Cotton Division of USDA's Agricultural Marketing Service."
It was in that role where Moore would make a tremendous contribution to cotton around the world, especially the West Texas cotton industry. It would not be easy and would take a lot of time and support from the region's leaders.
In the 1920s, cotton merchants could not agree on uniform terminology for describing the quality characteristics of cotton, thus creating much confusion in the marketplace. So, they asked USDA to establish grading standards. In the following decade, during the Great Depression, the U.S. Congress created price support programs for agricultural commodities and stipulated cotton would have to be graded, or classed, by USDA for growers to be able to participate. Little would change for the next 40 years. Enter PCCA and its appetite for innovation.
In the 1960s, PCCA began working with a private company to develop a better classing system for cotton. The idea was to use instruments to determine cotton quality characteristics to replace the hand-classing system employed by USDA since the 1930s that was subject to human error. In addition to determining color, fiber length, maturity, leaf, bark and extraneous matter, the goal was for the instruments to determine fiber strength and uniformity. PCCA was the first company to purchase a High Volume Instrument line for operational use, utilizing the system to measure quality characteristics not included in USDA's classification before offering the cotton for sale.
"Emerson Tucker (a textile engineer at PCCA until his retirement in 1997) was convincing in his praise of the HVI system," Moore said." Over time, West Texas cotton had developed a reputation for short and weak fiber, but HVI measurements were proving that these shortcomings were rapidly disappearing due to introduction of irrigation, better varieties and better farming practices in general. His explanation and demonstration of the equipment made clear to me that this was the system USDA ought to be using to classify growers' cotton, especially in that it included measurements of fiber strength and uniformity which USDA's manual classification system could not provide."
Recognizing the potential for a much improved means of grading (classifying) cotton, Moore recommended to the Secretary of Agriculture that he establish an industry advisory committee on cotton marketing to advise Moore on the implementation of HVI classification. Six stakeholder segments of the cotton industry was to have representation on the committee (growers, ginners, cooperatives, merchants, manufacturers and warehousemen). Moore said he knew it was critical to have the top leadership of the cotton industry fill these positions and that he was greatly relieved when his recommended list of industry leaders was approved without exception.
"Every single individual on the committee was a recognized leader in the cotton or textile world and worked cooperatively, efficiently and effectively to accomplish their mission," he said. Moore also said that even prior to the establishment of the advisory committee he had been approached by representatives of cotton growers, ginners and others from the Lamesa, Texas, area who expressed a strong desire for USDA to bring HVI classification to their area as quickly as possible and were even willing to share the cost of its implementation.
"By that time, I was just waiting for some grower group to step forward, and I wasted no time in accepting the Lamesa delegation's offer," he said. In response, a pilot project was established at Lamesa with enough HVI equipment to class the area's entire crop. As soon as the results were in, it was clear to the Lamesa growers that the addition of the strength measurement alone was sufficient to justify the changeover to HVI. They also recognized that it was more precise in measuring the other quality characteristics, and while it was not given much attention in the beginning, HVI's separate readings for color and leaf proved to be another tremendous improvement in the accurate reporting of the cotton's market value.
"We were off and running," Moore said. He then began the arduous task of converting all USDA Cotton Classing facilities to HVI. "It was a radical change in the cotton classing system," he said, "so skepticism and resistance was understandable."
"Cotton merchants initially thought the separation of color and leaf would reduce their profits," said PCCA Vice President of Marketing Lonnie Winters, "and some producers thought it was another way to discount their cotton. Changing the classing system was unheard of, but Jesse Moore fought the odds and did a lot of good for the cotton industry. It was great for PCCA because it enhanced our relationships with our domestic and export customers and helped textile mills with their laydowns."
"PCCA played a huge role in helping me improve the cotton classing system," Moore said. "Former CEOs Dan Davis and C.L. Boggs were among my biggest supporters. I was also very fortunate in having the strong support of the Cotton Division's field force who, from the very beginning and without missing a beat, stepped up to the plate and figured out on the fly all the detailed operating procedures by which this vastly different cotton classification system was made to work properly and efficiently."
The stars aligned just right when Jesse Moore, PCCA and others joined forces, and there is little, if any, doubt cotton farmers, especially those in West Texas, were the beneficiaries. The HVI classing system has resulted in more money in farmers' pockets.