Mark True is Elected PCCA's Newest Board Member
By Taylor Word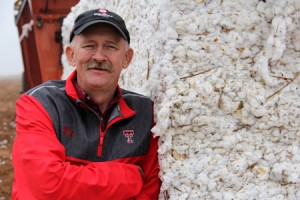 Located seven miles south of Plainview, Texas, sits a 1,400-acre farm that is a true representation of dedication and family. Mark True is a farmer that follows in his father's footsteps with a commitment to farming as a lifestyle. He was elected to PCCA's Board of Directors at the cooperative's 61st annual Membership Meeting in September, giving him another opportunity to continue his father's legacy.
Mark replaced his late father, Riley True, who served on PCCA's Board of Directors for 25 years. Riley was known for his selflessness and commitment to being an advocate for agriculture. Mark says his father was someone who would be willing to help anyone without thinking twice about whether or not they could repay him.
"One of the things I've admired about that generation is the total commitment to what they chose to do, and I was always raised with the idea that farming is not an occupation, it is a way of life," Mark says.
He grew up on the family farm and has been growing cotton, millet, seed milo and wheat for more than 28 years. During that time, he learned valuable lessons from his father about both farming and life in general. Mark says that his father and uncle, S.M. True, were his mentors when learning the business. Riley and S.M. did not share the same land but shared a barn and helped each other whenever necessary. Mark bought land from S.M. after S.M. began work at the Texas Farm Bureau.
Mark and his wife Mary have two children. Kaitlyn is the oldest and a newlywed currently residing in Pampa, Texas. Kristen is attending Texas Tech University (TTU) as a junior majoring in Animal Science. As a TTU graduate himself, Mark says it is where he got his first opportunity to test his leadership skills.
"The Agricultural Student Council gave me an opportunity to be the president, and I have been blessed by the people and still have friends that I continue to enjoy," Mark says. "It gave me a foundation to build on and a whole wealth of people to associate with."
Mark currently is a member of the Ag Producers Coop Gin. He also serves as the Vice President of the Hale County Farm Bureau, Chairman of the Covenant Hospital Plainview Governing Board, Immediate Past President of the Hale County Stock Show Board, and a Deacon at the Garland Street Church of Christ. He was previously involved with the Texas Farm Bureau AgLead program and the National Cotton Council Policy Education program.
Riley was actively farming up until the day he passed away, and Mark says that his father was always concerned with contributing to farm operations. He says that when his father's health began to decline, Riley gave him permission to make decisions on his behalf.
"When my dad got sick, he considered giving up his seat on the PCCA board, but I encouraged him not to," Mark says. "He loved PCCA so much, and I knew that it would help him keep going and it was the last thing he engaged in outside of the farm. I was afraid that if I expressed an interest in serving that he would step aside to give me an opportunity."
Mark wants to serve District 2 and be a resource to PCCA members. He explains that he knows his role is acting as a liaison between PCCA and its members, and he feels he has a duty to stay aware of issues and be prepared for anything that is needed from him. He wants to be active within PCCA because he believes people involved in agriculture need to seek positive results with things that will support the industry. He is excited to carry on in his father's position but eager to contribute his ideas to the board on behalf of his district.
"My dad always said, 'You are only as good as your word and if you start something you have to finish it,' and he was working until the minute that he died," Mark says. "One of my first thoughts after his passing was that I needed to continue what he started on the board, but I'm looking forward with eyes to the future."