by Jayci Bishop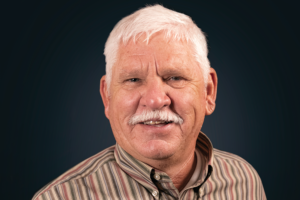 Most farming operations across the U.S. are family owned, and for Marvin Beyer, PCCA's newest board member representing District 11, his farm in Taft, Texas, is no exception. A rich history, family ties and multiple generations have made the operation what it is today.
My grandfather started our operation," Beyer reminisced. "The land was in a ranch, the actual Taft Ranch. My grandfather worked for the Taft Ranch and when they broke it out, they gave the foremen the option to buy some land if they wanted it. So, he chose the piece of land that I live on, and that's how it started."
After Beyer graduated from Texas Tech University with a degree in agricultural engineering in December of 1978, there was no doubt in his mind what his next steps would be. Beyer's brother, Danny, was already farming at that time and together they formed a general partnership. He farmed his first crop in 1979. Today, they have a dryland operation and rotate crops between cotton and grain sorghum.
"I just wanted to farm and that's the way my brother was," Beyer said. "We enjoyed it growing up. That's all we did. We worked on the farm with our dad. Actually, our operation today is Beyer Brothers. My dad and his brother also farmed together as Beyer Brothers. We just really enjoy it."
Beyer said his hands-down favorite part of farming is being with his family. He and his wife, Melanie, have two children, Ashley and Trey, and a daughter-in-law, Kristin. He enjoys the rewards of getting to work alongside his brother and his son. He said his dad instilled values in him that he has tried to pass on to his children.
"Family is what it is all about anyway," Marvin said proudly. "My dad instilled in us that you work hard and it will pay off. If you are honest, up front, and do what you are supposed to do, things will work out."
While it can be rewarding to be your own boss and do things on your own terms, farming is filled with trials. Beyer said one of the greatest challenges they face is the weather.
"Lack of rainfall at the right time or too much rainfall at the wrong time can be an issue," Beyer said. "Being on the coast, we are subject to tropical weather, and it is miserable to have a crop ready to harvest and have a tropical system come and take it out. That's difficult. When you're dryland farming it can be brutal, but I have learned through the years that it all evens out."
However, he said contrary to what many people may perceive, farmers can be quite optimistic.
"Most people probably think farmers are really pessimistic because we always talk about how bad and this and that," Beyer said. "We are probably the opposite. If we weren't optimistic, we'd never plant a crop. We're going through a dry spell right now. We could all quit and go home, but we don't. We keep going. We are more optimistic than people realize we are."
He said farmers are engrained with the determination to show up and do what is necessary, which was evident earlier this year when Winter Storm Uri hit the state of Texas.
"I go back to this big freeze we had," Beyer said. "West Texas probably didn't have much problem, but down south people didn't know how to do anything to get through that freeze. Farmers did. We all made it work. We helped our neighbors and all of that. Farmers are there and we know what to do most of the time. It might not be the right thing every time, but we do something."
Another demanding element of farming can be marketing the crop. Beyer said it is good to have PCCA to help with that task.
"One of the things I don't like is marketing," Beyer said. "It never fails if I sell it today, it is going to go up tomorrow. PCCA has taken that weight off of me. The other thing besides weather that I talked about being a challenge – marketing. It is so hard to market in my opinion."
He said he is proud to serve on PCCA's Board of Directors after being involved with the co-op for many years.
"I have been on our South Texas Pool Committee," Beyer said. "I make all the meetings and try to stay involved in all of that. I like the concept of what goes on with it and use it in my operation. I promote PCCA to all of my neighbors and people at the gin. I hope to do a good job at representing my district and having input, and wish for the success of PCCA."
Beyer is also active with other industry associations. This includes serving as Vice Chairman of Gulf Compress, immediate past chairman of the South Texas Cotton and Grain Association, and is currently serving in the officer rotation for Cotton Incorporated. Beyer is also the current chairman of the Texas State Support Committee. He looks forward to being chairman of Cotton Inc. in the future. In the past, he also has been involved with his local Farm Bureau board, church and livestock show. He said he would encourage everyone to get involved with their cooperatives or industry organizations.
"I feel some ownership when I'm involved with a cooperative, and it is probably a little easier for me to say that because I am so involved with them," Beyer said. "If you want some ownership in something, get involved and it will pay off. It's not going to happen overnight, I learned that. You have to do your time, be involved and educate yourself. There's a reason why our forefathers created these organizations."
He said he believes in the cooperative system, but more than that he also believes in working together with his fellow farmers to accomplish things he would not be able to do on his own.
"I think it is important for us to work together collectively to get things done," Beyer said. "If I'm out there individually trying to say, 'we need to change the loan sheet because of this' I can't do that by myself, it has to be a group. Cooperatives seem to be the answer to get things done, to get everybody on the same page and to hash things out."
When he isn't on the farm, one of Beyer's hobbies is flying.
"I learned to fly in college in Lubbock, Texas, in 1976," he said. "I fly an airplane and a helicopter. It is a single engine airplane and it has a unique story. My dad bought it new and flew it home from the factory and it has been in the family ever since."
Beyer had a simple, single piece of advice for the next generation of farmers beginning their career, like his son.
"Just keep at it," he said proudly. "All you can do is the best you can, and make the decisions you think you can make and move forward."