PCCA's New President and Chief Executive Officer
By John Johnson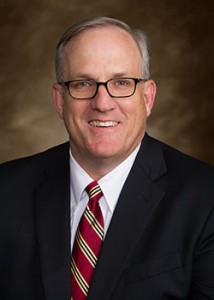 PCCA entered a new era on July 1 when Kevin Brinkley officially became president and chief executive officer of the cooperative. Brinkley's hiring was announced on April 24 by PCCA Chairman Eddie Smith following a nationwide search.
"We are very pleased to announce the selection of Kevin to lead PCCA's cotton marketing, warehousing and software services for our members and customers," Smith said in a news release, "and we are excited by the level of experience he brings to the job. He is well known and respected in the cotton industry and will complement PCCA's management team."
Originally from Burnet, Texas, Brinkley attended Texas Tech University where he graduated with bachelor's and master's degrees in agricultural economics. Upon graduation, he joined the staff of the National Cotton Council (NCC) in 1989 as field representative for the Texas High and Rolling Plains. He was promoted to an economist position in NCC's Memphis, Tenn., headquarters in 1990 where he conducted farm policy analysis and provided marketing support for Cotton Council International's efforts to promote U.S. cotton.
Brinkley joined the staff of The Seam as marketing manager when the company was created in 2000 to offer the world's first completely online, neutral exchanges for cotton trading. In 2003, he was promoted to vice president of marketing and business development, and The Seam added other commodities such as grain, peanuts and dairy to its trading platform. The company also began offering food trading platforms for major manufacturers and reverse auction procurement systems for USDA. He was promoted to senior vice president in 2011 to oversee all daily operations of the company and was named its chairman and chief executive officer in January 2015.
"PCCA is a stalwart of the U.S. cotton industry," Brinkley said in April. "My vision is to serve our members by continuing to provide the quality of service and value that have made the cooperative the supplier of choice for customers around the world," he added, "and we will continue to look for new innovations that increase the value of our members' cotton."
The following is a series of questions and answers from Brinkley to help PCCA members and our readers get to know him better.
You are originally from Burnet, Texas. Was your family involved in agriculture in the Burnet area?
My mom's dad was a farmer-rancher his whole life. He was primarily a cow-calf operator but was widely known as the king of watermelons and cantaloupes in our county. Burnet is on the northern end of the Texas Hill Country, and believe it or not, he farmed cotton there for several years. The cotton was hand-harvested by my mom and her eight siblings, and it was ginned in Burnet County. Eventually, economic realities of dryland cotton on rocky soil caused my granddad to give up fiber production, but I have always enjoyed knowing that cotton was part of my mom's heritage. Most of my time growing up in Burnet was focused on cattle, but I wish I had learned the trick of raising good watermelons, though!
Why did you choose to attend Texas Tech, and why did you major in agricultural economics?
While growing up, I was extremely involved in 4-H and FFA. Through those organizations, I was exposed to several students from Tech including E.L. Caraway, the most impressive and influential student leader I had ever encountered. I liked their attitude and work ethic. I scheduled a visit to Lubbock in the middle of winter during my senior year at Burnet High School. I was instantly hooked by the stark landscape and wide-open spaces. I loved the campus and the people. It's been said that when it comes to selecting a college, "you know it when you see it." That was definitely true for me. Since my dream was to be a ranch manager, I intended to major in Range & Wildlife Management at Tech. But, I soon felt myself being drawn to the business side of ag production and switched majors to Agricultural Economics which really fit my interest.
Looking back over your career to-date, what do you consider to be some of the highlights?
Growing up in a small, rural community, I have been able to accomplish more than I ever dreamed. I've worked on policy development and government relations, traveled to some unusual places, and met a lot of influential people. I genuinely believe that getting to start in the field for the National Cotton Council is still one of the highlights for me. There is something about starting your career on the ground floor that provides real confidence. Being able to help growers and ginners work together and solve problems brings a tremendous sense of accomplishment.
What do you think are the greatest challenges facing U.S. agriculture?
To me, the greatest challenge is the approaching structural change as farmers retire and pass their operations along to the next generation. It's on the minds of most growers that are thinking about the future of their farm assets. Recruiting younger family members to stay engaged seems to be more difficult with the amount of risk and financing required. As an industry, we really need to come alongside the next generation and help provide them with solutions that keep them farming.
Why do you want to be President and CEO of PCCA?
Many individuals and organizations have made significant investments in my leadership skills over the years. Much of that development has been from folks at PCCA. With the role PCCA has played in my family's life, I truly cannot imagine a greater opportunity to give back to the organization that has been so important for so many people.
How have your experiences at NCC and The Seam prepared you for this position at PCCA?
Both organizations were great preparation for PCCA. At each organization, you get to work with a lot of individuals and companies to accomplish goals. That requires a lot of listening and subsequent thinking to create solutions that benefit as many people as possible. That skill is vital in agriculture. The only way that growers and small businesses like gins can truly prosper is to all pull in the same direction to increase their influence and marketing power. I have had front-row seats to see a lot of group solutions developed at NCC and The Seam.
What are the greatest challenges facing PCCA today?
PCCA is the largest originator of Texas, Oklahoma, Kansas, and New Mexico cotton. That brings tremendous opportunities in terms of scale. We can supply large volumes of value-added cotton around the world. However, the popularity of our cotton combined with declining cotton acres in other areas of the United States means more attention from competitors in the origination market. We need to stay focused on adding value to our members' cotton by enhancing supply chain performance every day.
What do you envision for the future of PCCA?
PCCA's mission is to add significant value to the cotton marketed for our members by being the supplier of choice to our business partners in terms of quality, service and value. That means more than just selling fiber at a competitive price. It means delivering a superior product and supporting supply chain services that make PCCA the best cotton originator in the world. PCCA is made up of thousands of growers operating as individual businesses, and we sell to customers around the world. We will continue to do more of what makes our company special – innovation. It adds value to our members' cotton and makes us the preferred supplier for our customers.
What are your short term and long term goals at PCCA?
My priorities for the near term fall into three categories: listening, learning and leading. Listening to our members, customers and employees talk about their ideas and the challenges they face will give me valuable perspective on where we need to go as a company. PCCA is what it is because of the ideas and efforts of a lot of people over the years. It's important to continue that process beginning in the field and following through to our customers.
As close as I have been to PCCA for nearly 25 years, I still have a lot of learning to do. When you consider the size of PCCA, the organization has done a great job of staying disciplined and protecting its marketing practices and trade secrets. Much of my time over the next few months will be spent learning as much about the operations of the company as I can.
Leading is a topic that is very important to me and every other member of the PCCA team. In order to fulfill our mission, we have to practice "love your neighbor-type" respect for every member, customer and teammate. Our employees are very supportive of this approach because they are personally invested in that philosophy.
In the long run, our goals will be to look for ways that we can innovate to the benefit of our members and customers. This company has created industry-changing technologies and business practices. We're going to keep doing that. It's a major part of our brand.
What are PCCA's strengths and weaknesses?
PCCA is a strong company because since 1953, we deliver very unique value-added services on a large scale. We combine world-class marketing with integrated warehousing, technology and logistics. We are a complete solution, and we're going to get even better at those things.
When it comes to weaknesses, we compete for market share every day. We have had our ups and downs. With the divestment of our textile business behind us, we now can focus all of our efforts on the core of our business – marketing cotton. And that will help our members, our communities, and our industry.
We have a slogan "Grounded in Tradition, Invested in Your Future." What better position could we ask for? To me, it says we're strong, we're determined and we're ready to embrace the future!
What is your perception of PCCA's relationships with other regional cooperatives?
We have the strongest regional cooperative partners you could wish for. Farmers Coop Compress, Taylor Compress and Gulf Compress receive, store and deliver a significant portion of the cotton we market. Ron Harkey and his staff at FCC and David Fields and his team at Gulf are dedicated to great service and great returns for our members.
Then there is PYCO that adds incredible value to a grower's total production and returns through their oil mills. Gail Kring has a special place in my life because he got me in the door at NCC. He and the rest of the PYCO staff play a critical role in the total returns received by our members.
We wouldn't be able to provide the type of value we do without the services of these companies. All of us are vital to the cooperative system, and we're proud to be associated with them.
Tell us about your wife and children.
My wife, Mary, and I just celebrated our 29th anniversary. Mary is a proud Texas Tech Red Raider who has taught elementary school and is currently an affiliate real estate broker. We have three children. Our oldest daughter, Kate, is a graduate of Auburn University, and lives and works as a technical writer for VMWare in Atlanta, GA. Our son, Carter, is a graduate of Mississippi State University and lives in Hernando, MS, where he serves as Student Minister at Hernando Baptist Church. Our youngest daughter, Molly, is a sophomore at the University of Tennessee in Knoxville majoring in public relations.
How did you meet Mary?
When I was new to Tech, a buddy convinced me to go to the freshmen lock-in at the Baptist Student Union. I met Mary during some silly games there and honestly didn't do much but look at her the rest of the night. I asked her out the next week and we have been the best of friends ever since.
Do you have any hobbies or other outside interests?
Not enough. But I do like getting outdoors. I'm a big fan of bird hunting and go whenever I get the chance. I'm also an avid photographer, but since my kids are grown, I don't have anyone to photograph but our dog for now! Maybe one day we'll have some grandkids I can photograph.
What do you look forward to the most about living in Lubbock again?
In no particular order: food, football and friends.
When we moved from Lubbock several years ago, the withdrawals from real barbeque and real "TexMex" were pretty severe. So we will enjoy getting access to authentic southwestern cuisine again. Oh, did I leave out chicken fried steak? We also look forward to Tech football games and making a lot of new friends, too.