By Lyndy Paske
Editor's Note: the Mission Valley Online Store was closed May 19, 2003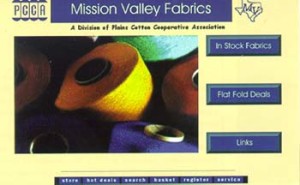 The cyberspace world rapidly is becoming more prominent in everyday life. People now use the Internet to quickly and conveniently take care of routine tasks such as banking, buying plane tickets, ordering flowers and paying their bills.
Mission Valley Fabrics (MVF) recently joined the online marketplace by launching a new website accessed through the MVF homepage to assist Creative Textiles retail customers in ordering fabric. The e-commerce site will make ordering fabrics less time consuming and more efficient.
The new website also will allow PCCA members to purchase fabric directly from MVF. All that is needed is a credit card and a password which is acquired by completing the sites registration procedure.
Completed in three months, the website's goal is to provide better service to Creative Textiles' existing consumers while expanding its customer base. Creative Textiles is an in-stock division of MVF which sells a full line of 4.5 oz, 100 percent cotton fabrics to manufacturers in home fashions, apparel, fabric stores, and consumers worldwide.
The website is open 24 hours per day, seven days a week, so customers no longer have to worry about time zone differences or customer service lines being open. It also eliminates other inconveniences such as being put on hold. The site will benefit MVF because it enables management to track customer trends and discover what days of the week and times customers prefer to buy fabric.
To order material from the website, a customer must first register for credit approval by Creative Textiles management. The online registration gathers information such as the customer's name, shipping address, tax number and credit information. Once approved, a password is e-mailed to the customer.
When the customer has properly entered the site with his/her password, the customer is greeted by a set of menus categorizing different types of fabric that Creative Textiles has in stock such as denim, seersucker or chambray. Created to be as user-friendly as possible, following the website's ordering procedure is similar to shopping at a grocery store. In a store, a shopper walks up and down the aisles searching for items. In the website, the menus act as "aisles" and contain submenus that further break down categories . For example, one type of fabric might have submenus for midtone, dark, bright, and pale colors.
A photograph of each fabric offered is provided to show an accurate representation of its pattern repeatability. On a standard 15-inch computer monitor, the fabric pattern looks almost exactly like it will in its physical form. The elite check also gives a written description of the fabric, its price, and the minimum amount that must be purchased. If the customer decides to purchase the fabric, he simply clicks a button marked "add to shopping basket" just like a shopper would place something in his cart at the store.
From there, the site takes the customer to a screen that lists purchases with the total amount and price calculated. Shipping costs also are included. The ordering program was created with a formula that knows the weights of all fabrics offered, so it takes the fabric weight and interfaces it with the United Parcel Service (UPS) website to automatically calculate shipping charges. This saves customers from making another phone call, and they are able to choose from a selection of shipping options from standard delivery to overnight.
Customers have the option of paying direct by credit card or by charging the amount to their MVF account. Once all information is complete and submitted, the program gives the customer a number to confirm their order was received.
Joe Tubb, PCCA's vice president of information systems, says the new service should provide many advantages to MVF's customers. Along with the convenience of ordering fabric any time during the day or night, customers will not have to make as many phone calls. All arrangements can be made in a matter of minutes right on the computer. The website's customer order tracking screen also allows customers to track their packages. If a customer's order number is known, the webpage can access the UPS homepage which lists all stops the package has made enroute to the customer.
The website also provides some additional devices that are not available to customers through customer service. One icon entitled "hot deals" shows cloth that has been specially priced for quick sale. Customers can use a search engine to identify fabric they are considering buying by entering a key word. For example, "plaid" entered on the search screen will show all fabrics that contain the word plaid in the description of the cloth. Another feature is the service menu. It gives a variety of services for customers to view such as a complete list of their orders or the membership benefits of MVF. Customers also are able to link to other textile-related websites.
The e-commerce site will save MVF money. Previously, commissioned sales agents sold fabric to customers, but the new site will eliminate the need for these agents and their commission fees. Also, prior to the site, consumers only could view fabrics in person or through sample catalogues. Since the site can show all in-stock fabrics in almost exact replication, the need for and cost of the catalogues will decrease.
By entering the online marketplace, MVF is placing itself in better position to compete with other companies. The Internet acts as the "great equalizer" making smaller companies better able to contend with larger ones. It gives the consumer choice, freedom, more control, and faster service. E-commerce also no longer limits customers by geography, and customers have the opportunity to purchase products anywhere in the world. MVF is informing more than 3,000 fabric purchasers and distributors about the new website.