By Holly Hunter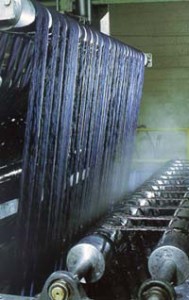 The Board of Directors of Plains Cotton Cooperative Association (PCCA) earlier this year approved the purchase of a second dye range at American Cotton Growers (ACG) to increase capacity, add flexibility in dye colors used, and facilitate response to changing fashion trends.
"The reason for the second range is to increase the mill's capabilities and to stay up with the changing times, styles and diverse markets," according to PCCA Vice President of Operations Darryl Lindsey. There has been only one dye range operated at ACG since 1976. This range is still in operation, and it continues to produce premium warp (dyed) yarn.
"However, for the mill to produce yarn of different varieties and various shades, a second, modernized dye range is necessary," Lindsey explains. The added capacity also will enable the denim mill to dye Mission Valley Fabrics yarn used in several new ACG denim styles.
The new dye range will have eight dye vats instead of seven but, overall, will be very similar to the range currently used. Two additions, an accumulator and a steamer, will make the new dye range more versatile and distinct from the original one.
"The accumulator will save time and reduce off-quality," Lindsey adds, "and it will give us an extra two minutes to tend to a problem without shutting down the range." The steamer will contribute flexibility to the mill's product development for new customer expectations.
"The steamer will help us to modify the way we are able to condition the yarn," Lindsey explains. "The condition of the yarn will allow it to accept different shades of sulfur dyes."
The addition of the new dye range is a part of ACG's continued modernization and expansion efforts that will further the mill's capabilities to keep up with the changing fashion trends and consumer demands. The mill plans to begin operating the new dye range in November 1999.