By Lynette Wilson
Historically high cotton prices inspired Plains Cotton Cooperative Association (PCCA) to conduct a first-of-its-kind event that convened representatives from the cotton, denim, spinning, and apparel industries. On November 3, 2010, the cooperative hosted its first Cotton Summit at its headquarters office in Lubbock, Texas.
Attendees included both denim and cotton customers from companies including Parkdale Mills, Williamson-Dickie Manufacturing Company, Levi Strausse & Co., Carhartt, VF, Abercrombie & Fitch, Lucky Brand, Gap, and Hanes Brands.
The invitation-only event placed an emphasis on facilitating dialogue between PCCA and its customers as the cooperative shared its outlook on the cotton situation for the coming year and discussed how the other industries planned to deal with rising prices. For the first time since the American Civil War, cotton prices are well over one dollar per pound.
"The number one reason for the rise in cotton prices is tight supply," said PCCA's Director of Sales Grady Martin. "The second reason is weakness of the dollar as commodity prices are inversely related to currency values. As the currency (dollar) gets weaker the relative value of the commodity increases," he explained.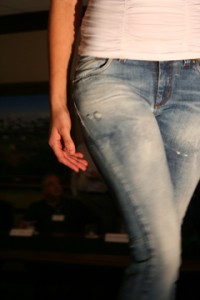 As the raw material prices increase, cost to manufacture denim and other cotton fabrics also increases. Manufacturers ultimately will pass the increased costs to the consumer, and depending upon availability and cost of alternative fibers such as polyester, some manufactures may modify blend levels. Thus, a 100 percent cotton product may be modified to an 80/20 cotton/polyester blend.
"Higher cotton prices will necessarily result in higher priced fabric and jeans," said Martin. "Based upon what we are hearing from our customers, retail prices for jeans are likely to increase several dollars per pair," he concluded.
"Our hope was to make the relationships in the cotton, denim, and apparel supply chain more 'collaborative' and less 'combative'," said Wally Darneille, PCCA President and CEO. "At the summit, we shared the information we have about past, current, and future trends in cotton and offered ideas on ways we can work together better by cooperating to create mutually beneficial opportunities," he explained.
In addition to educational sessions in which the cotton market, prices, and trade were discussed, PCCA emphasized a "hands on" cotton experience for its guests in order for them to see the entire process from "field to fashion" first hand.
In order to facilitate an understanding of the labor involved in harvesting a crop, summit attendees visited cotton farms where each of them rode a cotton stripper with a PCCA member-farmer.
"We really liked the idea of our customers going out into the field, meeting a farmer, riding on a cotton stripper, and having a psychological connection to feeling the ground under their feet and the cotton in their hands," Darneille said.
An excursion to a cooperative gin also was on the agenda. Splitting into three groups, the visitors toured either Lubbock Cotton Growers, Citizens- Shallowater, or Liberty Cooperative Gin. Managers at each location explained the ginning process, discussed cotton characteristics, and answered a myriad of questions from the summit participants. Later, denim manufacturing was highlighted by visiting American Cotton Growers (ACG) in Littlefield, Texas.
To complete the field to fashion education process, the summit concluded with dinner and a fashion show in PCCA's Boardroom. As electrifying music filled the air, models wore high-fashion jeans created by designers at Denimatrix, PCCA's garment manufacturing facility, to a highly attentive crowd of summit guests.
"In the minds of our customers, I think this summit really set us apart from other cotton and denim supply companies," said Jack Mathews, PCCA's Vice President of Fabric Sales and Product Development. "Our total verticality and the resulting knowledge we have in all aspects of the industry truly differentiates us from any other business. As a result of this meeting, we hope to be perceived as a resource to our customers rather than just another supplier," he concluded.