Provides Members with Online Access to Accounts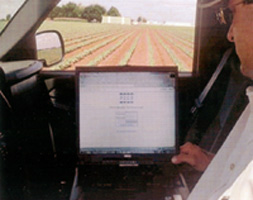 Plains Cotton Cooperative Association (PCCA) continues to deliver innovative and beneficial technology to its members by announcing a groundbreaking new program.
The creation of a Member Access service accessible through PCCA's web site is the direct result of PCCA's commitment to member service and the increasing use of the Internet in agribusiness.
To assist members in making pivotal business decisions in the ever-changing world of cotton, current information regarding PCCA accounts may be viewed from the convenience of a home computer. The system provides members daily access to all of their PCCA accounts from five a.m. to midnight Central Time, allowing them to retrieve current account data at their convenience.
"Because farming isn't a nine to five job, Member Access is available at night and on weekends so our members can get more personally involved in gaining the accounting and crop quality information they need," explained Jerry Webb, manager of Southwest Cotton Growers, Wellman, Texas. "The program is a user- friendly and valuable tool, and our producers eventually will be as comfortable using Member Access on the computer as they are driving a tractor."
In addition to its convenience, Member Access is a highly secure system restricted to PCCA members with a member-specific username, password, and Tax Identification (ID) number. Member Access allows PCCA members to view information regarding their gin accounts and scale tickets as well as PCCA statements and patronage via a secure site.
"We put this program in place only when we were completely sure our members could view their account information in complete confidentiality," said Joe Tubb, PCCA's vice president of information systems. "Member Access uses similar technology and security precautions as companies who allow credit card purchases online" Tubb explained.
This free program can be a valuable tool during harvest and throughout the year. By registering for Member Access, members will be provided timely classing information. Scale ticket information and a ginning summary (for subscribing gins) also may be obtained once they are posted by the gin.
"I have looked forward to being able to see my accounts online for some time now, and the day is finally here," said Mark Appling, a cotton producer from Crosbyton, Texas. "Now I can see my information every day at home instead of making a 16-mile trip to the gin office."
The data provided through Member Access also can be helpful when filing taxes because PCCA statements and patronage information may be viewed and printed at the members' convenience. Additionally, crop production data, beginning with the 2002 crop, is available online to aid in important planting decisions or Farm Service Agency (FSA) reporting requirements.
Member Access has been well received by PCCA members and the number of registrations for the new program continue to increase.
"The Member Access project was about a year in the making, but its early success has been worth it," said Dean Church, PCCA's vice president of grower services. "We had over 300 members register just by word of mouth and had great feedback from our members. Our communications staff developed an excellent brochure that jumped new registrations to over 50 a day and it will be interesting to see where it finally levels off," Church continued.
Church credits much of the program's success to active involvement and positive support on the gin level.
"I think everyone's excitement was matched with nervousness because we all understand the importance of the information that will be viewed. Our hats are off to the gins for helping to make Member Access a success," Church concluded.