by Hannah Culak
"The great danger for most of us lies not in setting our aim too high and falling short; but in setting our aim too low, and achieving our mark." –Michelangelo
Easy goals have never been an issue for Steve Verett. He just doesn't do easy. He does big, difficult, ambitious stuff.
Plains Cotton Growers, Inc. (PCG), was organized by a coalition of cotton producers in 1956 to be a non-profit organization dedicated to serving Texas High Plains growers. PCG's top priority since that time has been to help achieve agricultural policies to assist thousands of High Plains families stay on their farms. PCG is active in legislation, research, and promotion to better serve and support cotton producers of the Texas Panhandle. Verett, CEO of PCG, has used his life-long background in agriculture and farming to expand the organization's influence across Texas and the United States.
Born in Crosby County, Texas, Steve Verett has always had a passion for the cotton industry. After graduating from Texas Tech University with a degree in accounting, Verett moved back home and spent a number of years working full-time on the family farm with his older brother, Eddie. His advocacy work began with his involvement with Texas Farm Bureau on a cotton advisory committee. That first taste of fighting on behalf of all farmers led him to become a delegate for the National Cotton Council, and in 1993, Verett started working for the Texas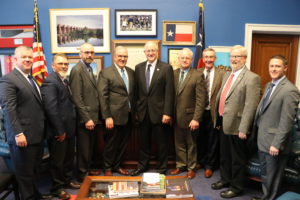 Food and Fibers Commission, a former state agency dedicated to agricultural research. Although the job broadened his knowledge in regard to research work, Verett's real dream was to work for PCG. Verett's desire became a reality when PCG appointed him to be CEO in July of 1997.
"I think it's safe to say they believed I had the passion and the desire, and still being an active farmer, I understood the plight of what was going on with cotton farmers in this region," Verett said. "I was fortunate that they gave me a chance and so here we are this many years later."
Prior to his role as CEO, Verett was avidly associated with PCG being a producer board member and serving as PCG's board president in 1988 and 1989. He was also the board chairman in 1990 and 1991. Additionally, Verett served as chairman of the PCG Boll Weevil Steering Committee in 1992 and 1993. From his history with the organization, he knew PCG's importance to cotton producers on the High Plains and could foresee a greater impact on its members.
"I was once told by someone that whether it's in your own business or an organization like this, you're either growing or you're going backwards," he said.
Since PCG is a non-profit and therefore a voluntary organization, its entire support and stability depends on its effectiveness to members. Verett made it one of his goals to emphasize PCG's role in the lives of all producers when he began visiting with its current and potential cotton gin members.
"I stressed to them that we're not a charity, we are an investment," he said. "When I first came to Plains Cotton Growers, we had about 55 percent support of potential bales that were paying into PCG. Over the last 10 years, we've been above 90 percent in collection rates. To me, that speaks volumes."
In addition to reassuring its members that PCG is an organization worth investing in, Verett had further ambitions of increasing involvement within the Lubbock community. Specifically, he wanted to gain full support from the Lubbock Chamber of Commerce. Verett started participating in the Lubbock Chamber Ag Committee meetings, later served as Chairman of the Lubbock Chamber of Commerce in 2006, and is currently a member of the Lubbock Chamber of Commerce's Government Relations Committee. As a result of his participation and work through these roles, he was able to tie the community back to agriculture and make it one of its main priorities.
Not only has Verett been actively involved within the Lubbock community, he serves as the treasurer of the Southwest Council of Ag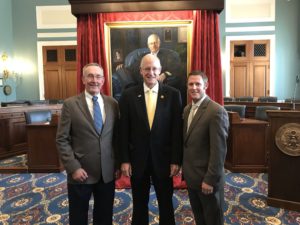 ribusiness, serves as a board member of the Lubbock Reese Re-development Authority, and has served on the advisory board for the College of Agricultural Sciences and Natural Re- sources at Texas Tech University.
Verett's advocacy work for the cotton industry grew immeasurably while at PCG. PCG works closely with government representatives and other organizations to advocate and guide farm policy efforts. This includes working to ensure Farm Bill legislation and a strong safety net for cotton growers.
The 1996 Freedom to Farm Bill only provided farmers with direct payments. As a result, when farmers eventually faced a period of bad crops and prices in the late 90's, and needed disaster assistance, it became evident a better farm program was needed. Through PCG, Verett solidified his promise to support the industry by having a hand in development of the 2002 Farm Bill, which brought back counter-cyclical payments and better support for the industry.
"Most of the big accomplishments and the things we've been able to accomplish have certainly centered around federal farm policy, "Verett said. "I think in the time that I've served here, there's been several milestones that all of us can be proud of, and I'm just proud to have been a small part of that. Getting cotton back into Title 1 of the 2014 Farm Bill in 2018 has to rank up there, too."
Success looks different to everyone and how that success is achieved is determined by the work put in. The agricultural industry is unpredictable at times, but with goals as far-reaching as Verett's, PCG's objectives were almost always accomplished.
"One of the biggest reasons for success here is our willingness to work cooperatively with other commodity organizations. I always wanted to do that," Verett said. "Cotton is the common denominator, so it's just logical for us to think outside ourselves and look at the other commodities and see how we can accomplish more working together."
Not only has success for PCG been a driving force for Verett, there has been one motive in particular that has kept him coming to work every day – the people. He said knowing who PCG represents, understanding how important they are, and seeing how the organization affects their farming operations makes the hard work worth it.
"The polices and the issues we work on alongside the National Cotton Council, the Southwest Council of Agribusiness and other organizations may be the difference in a farmer staying in business or not," Verett said. "On one hand it's a pretty heavy responsibility, but at the same time it's a heck of a motivator."
Those who are familiar with the cotton industry know that family and farming go hand-in-hand. Running a farm operation and being the CEO of an organization that improves the lives of other farmers is a tough job, but having family by your side makes it worthwhile. Verett doted on his wife, Patricia, and has immense pride for his three children Whitney, Kristofer, Taylor, and their spouses. For young families including Verett's kids and grandkids, his advice to power through the challenges of today is to trust life's timing and get involved however you can.
"Many times, we don't know what we're going to do or what the future might hold for us," Verett said. "I'd say if you're a farmer, no matter what commodity or whatever it is, make time to be involved in your industry."
It's proven that hard work and dedication to passions in life will open paths to success, whether it be within a specific career or a cause to fight for. In this case, Steve Verett is the prime example and as a result, PCG has succeeded in its ambitions for its members. After 24 years of commitment to cotton industry advocacy and Texas High Plains producers, Verett will retire on June 30. When most individuals plan their retirement, they have hopes of leaving a personal legacy behind in their wake. While he is proud of the accomplishments made over the years, Verett is focused on leaving PCG with what it needs to progress further.
"When I started looking at retiring some five or six years ago, I wanted to make sure that when I walk out that door that I believed we have staff in place that can carry this organization to even higher heights and can improve even more," he said. "I'm confident that Plains Cotton Growers is set up for even more success in the future and that's what makes me proud. It's why I can retire knowing I've been able to do whatever I could to keep the organization moving forward and will continue to be successful and relevant."
While working for PCG for over two decades, Verett spent his time working tirelessly to serve and support the cotton producers whose operations depended on PCG and as a reward, was nominated by Farm Credit in 2017 as one of the Top 100 Leaders in agriculture and rural communities nationwide. His years of advocacy work for the industry leave him with the confidence to return to the farm and trust his own operation will succeed. Times have changed and full- time farming looks different since before he came to work for PCG, but Verett said he's excited and looking forward to what's in store for him. He also wants to give thanks to everyone in the industry he had the pleasure of working with.
"I hope that you can look and believe that this organization has represented you well and that you benefited from being a member of Plains Cotton Growers," he said. "I'm also thankful that the leadership trusted me back in 1997 to step into this role. They will always hold a special place in my heart – this whole industry will."