Textile Division Gains New Customers
By Lyndy Stone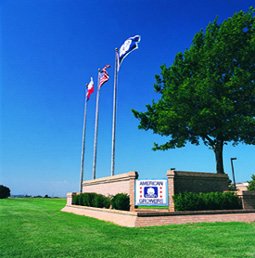 When the American Cotton Growers (ACG) Denim Mill opened its doors in 1976, its purpose was production of heavy-weight denim solely for Levi-Strauss & Co. (LS&Co.). The apparel manufacturer has remained a strong customer throughout ACG's history, but due to LS&Co.'s decline in business in recent years, it has decreased its orders from ACG.
While ACG intends to maintain LS&Co. as a major customer, the mill and Plains Cotton Cooperative Association's fabric sales teams have been working hard to compensate for the reduction in Levi's business. These efforts are beginning to pay off.
The major push for attracting new customers began in May 1999 as Plains Cotton Cooperative Association (PCCA) implemented plans to pursue and service other denim customers to ensure continued, long-term success in the denim business.
"Our long-term goals include maintaining Levi-Strauss & Co. as a major customer, rather than our only customer, expanding our denim business by adding new customers and positioning ourselves for future growth," says Jack Mathews, head of PCCA's fabric sales group. "Our biggest successes during the last year largely have been related to laying the foundation for this plan."
The components of this foundation include strengthening sales and marketing efforts, increasing manufacturing flexibility, developing a value-added product offering, identifying future partners and taking the message to potential customers. According to Mathews, all five components are in place and beginning to show results. In recent months, PCCA has attracted a number of new accounts to its Textile Division.
One of the most recognizable new customers is Old Navy, a division of the rapidly growing Gap Inc. The parent company's three brands include Gap, Old Navy and Banana Republic. The Gap has more than 2,900 stores in the U.S., Canada, United Kingdom, France and Japan. ACG is producing orders for Old Navy through various contract cutters including Bend N Stretch.
Other new customers with significant volume potential are Tommy Hilfiger Jeanswear, Sears, Canyon River Blues (through cut-and-sew company Flynn Enterprises, Inc.), Abercrombie and Fitch, and most recently, the VF Corporation whose brands include Wrangler, Rustler, Lee and Riders. ACG also has produced denim for other customers including Miller International, whose brands include Rocky Mountain and Cinch, as well as Edwin Jeans in Canada. Based on their initial adoptions, PCCA fabrics now are found in virtually all retail channels of distribution.
However, the past year's successes have not been without challenges. According to Mathews, the greatest obstacle has been managing the significant decline in business from LS&Co. Business from the major customer decreased faster than new customers could be acquired, impacting the textile division's bottom line. Mathews also says another major challenge has been conveying ACG's message.
"While ACG has a long and rich history with Levi-Strauss & Co., we were largely an unknown entity outside of Levi Plaza, LS&Co.'s headquarters in San Francisco," Mathews explains. "To do this right takes time." In addressing potential customers, Mathews and his staff have focused on building a strategy around the core competencies of PCCA's Textile Division.
"The beauty of the 'marriage' between Mission Valley Fabrics and ACG is that it brings together the best of both worlds," he says. "ACG's proven track record in commodity denim combined with Mission Valley's fashion capabilities has enabled us to develop a broad range of denim fabric that appeals to all major market segments from commodity five-pocket jeans to fashion jeanswear, from discount stores to specialty chains."
So, instead of changing its primary strategy, the Textile Division has made changes to enhance its existing strengths by greatly expanding its "value added" product line.
"It is the value-added fabrics that open the doors for us," Mathews continues. "After all, everyone wants to see what is new. Over time, we will capitalize on the interest in new products and use this interest to get a piece of their core (basics) business. Over the long term, it is important that we have a balance of both core and value-added business."
Thus far, PCCA has received a mixed reaction from potential customers, mostly because some are trying to reduce their supplier base rather than expand it. Mathews says many of the target customers may have believed ACG was looking only for a nearby order due to decreased business from LS&Co. instead of a long- term relationship.
"In effect, we have had to pay our dues and earn our way onto the supplier matrix," Mathews says. "After 12 months of telling our story, the doors are beginning to open." He adds a number of customers currently are evaluating ACG's core fabric in their production facilities, and he soon expects to see others on board. But, more positively, Mathews reports ACG's fashion denim has been well received.
"The steady stream of unique and innovative denim fabrics has enabled us to get fashion fabrics placed and has helped legitimize ACG as a major, long- term player in the basic and fashion denim market," Mathews says.
Obviously, the denim market has changed dramatically over the past few years. A combination of factors including excess capacity, an influx of cheap imports, the migration of cut and sew operations to Mexico and a decline in the historical growth rate for denim, combined with a shift from basic five-pocket jeans to fashion jeans, has created havoc in the marketplace for all denim suppliers.
In ACG's case, this situation was magnified by its dependence on Levi-Strauss & Co., its sole customer. However, PCCA is confident that in the long run, the difficult times its Textile Division is now experiencing will position it to be a stronger and better supplier and lead to growth opportunities in the future.