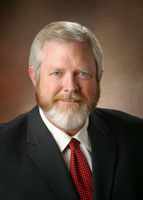 For several months now we have been discussing with the board of directors and the delegate body the difficult year we are having in our Textile Division. In case the word hasn't filtered out to all of you yet, I want to devote this column to bringing you up to date on exactly where we are.
In my last couple of writings to you I have attempted to describe the transition through which we are going in our Textile Division. As our partners at Levi Strauss & Co. (LS&Co.) have continued to struggle, we have been working diligently to expand our customer base. Our friends at LS&Co. simply cannot take the same volume from us (or any of their other suppliers) that we previously committed to them and, accordingly, we are all scrambling to find other outlets for our productive capacity.
Unfortunately, this comes at a time when there is a 15-20 percent overcapacity of denim production in North America. It is not the best time to be developing new customers, as every relationship is jealously guarded by current suppliers.
Nonetheless, we are encouraged by the success we are beginning to show in this effort and fully expect that, over time, we will develop a meaningful book of business in addition to our long-standing relationship with Levi Strauss & Co.
With the oversupply of denim capacity also comes a weakening in denim prices, as you would expect. Smaller volume and lower prices do not make for a successful combination in any business, and ours is no exception. Suffice it to say that our margins in the denim operation will certainly not be up to the levels that we have seen in past years.
To make matters worse, our yarn-dyed business at Mission Valley continues to suffer from Asian competition which dramatically intensified during their financial crisis a couple of years back. That, coupled with a market cycle away from yarn-dyed bottomweights, has put this division in a very difficult position as well.
Our sales of yarn-dyed fabrics have been on a steady decline over the last 12 months and have been subject to the same price pressures that we have seen in our denim operation. Again, the short-run prognosis for this business is "difficult" to say the least.
On a combined basis, we are showing a small profit so far this year, and I believe we will be able to stay in the black throughout our fiscal year ending June 30, 2000. However, the big margins to which we have been accustomed will certainly not be achieved this year.
Coupled with record mill option participation of almost 2.1 million bales, we will do well to see mill option margins in the $2-$3/bale range. This obviously reflects our worst performance in the Textile Division in a long time.
There is no pride in the fact that we are faring better than most in the textile business, as we are still profitable. This puts us among an elite few but is so far below the standards that we have set for ourselves that there is no joy in that accomplishment.
Nonetheless, there is some cause for optimism. It appears that we have seen the worst of the denim cycle. In April of this year, a turnaround in this business should begin. One big plus we have going for us is that our costs are in very good shape in the denim division, as you have always supported our efforts to keep our plant modern and efficient. When the market does turn, we will be in excellent shape to take advantage of it.
Additionally, in our yarn-dyed division, our sales slide has finally bottomed out and begun to turn around. Also, we are spending a lot of money, as you are well aware, to modernize some of the areas of this facility to try to gain better control of our costs in this portion of our business. Again, when this market offers us some relief we should be well positioned to take advantage, and so we are cautiously optimistic that we are on the right track here as well.
That being said, we will certainly not have everything turned around by June 30th of this year, and, accordingly, I wanted to be sure that you were aware to not expect a big mill dividend this time around. At our last monthly meeting someone jokingly asked how this would affect our 20/20 Vision Equity Plan, our financial target to have a 20 percent return on equity and a $20/bale cash payout at the end of each fiscal year. Obviously, these targets are not attainable in the current environment.
However, I think it is a good barometer for how far we have come that all of us understand what our targets are. The fact that our 20/20 Vision Equity Plan is so well understood is a testament to the fact that we are all pulling together for common goals and that we all know what those goals are. While it is disappointing that we are not going to meet them this year, at least we are on the same page as to what our mission is all about.
In short, with these difficult results staring us in the face, I wanted to be sure that you were informed as to our status this year. My former Scoutmaster back in Crosbyton told us that we should always "be prepared" as the Boy Scout motto suggests. When it comes dividend time in September of this year, please be prepared. The checks will be smaller.
Van May