By Shelby Axtell
Cotton Incorporated's Seal of Cotton celebrated its 30th anniversary in 2003. The Seal is one of world's most visible and well-respected trademarks that has allowed consumers to readily recognize textile products containing cotton in a retail setting.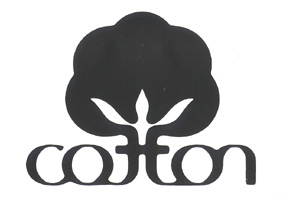 The Seal was created in 1973 by a San Francisco creative agency which also designed Levi Strauss & Co.'s patch and Coca-Cola's trademark. It gave cotton an identity at a time when cotton was experiencing an identity crisis and losing market share. Since then, the Seal of Cotton has become one of the most successful and recognizable trademarks.
The initial idea for a design started in 1971 with Dukes Wooters, president and chief executive of Cotton Incorporated at that time. He was looking for an image that would convert cotton from a pedestrian agricultural commodity into an identifiable consumer brand.
Today, the Seal of Cotton is one of the most recognizable logos among consumers along with Coca-Cola and Kodak. Less than a year after its introduction, 18 percent of consumers recognized it, and today eight out of 10 consumers can spot the seal.
Cotton Incorporated introduced in 1974 the NATURAL BLENDTM trademark for blended fabrics containing 60 percent or more of upland cotton, marking the first extensive use of the Seal of Cotton. These products began diverting consumers' and manufacturers' attention from synthetics back to cotton's inherent "natural" qualities.
The Seal of Cotton also serves as the focal point and central visual around which all of Cotton Incorporated's industry and consumer promotions are based. Part of this is due to the success of the award-winning advertisement campaign The Fabric of Our Lives®.
Cotton Incorporated predicts that in 2003 more than 166 million cotton apparel items and home furnishings will carry the seal, increasing the consumer awareness of cotton. Currently, more than 1,100 manufactures are licensed to carry the Seal of Cotton including cotton and textile companies in India.
The Seal of Cotton is an internationally recognized trademark which now bears testimony to the high standards and the superior quality of 100 percent cotton products in India, the second most populated country in the world.
"Our close working relationships with the Indian textile industry over the last several years have paved the way for the launch of the Cotton Gold Alliance program which will represent a new paradigm in cotton promotion in India," William B. Dunavant, president of Cotton Council International (CCI) said.
The Cotton Gold Alliance is a partnership between Cotton Incorporated and CCI, the international division of the National Cotton Council of America. CCI's mission is to increase exports of U.S. cotton, cottonseed and U.S. manufactured cotton products.
The Cotton Gold Alliance partnership is responsible for three leading Indian cotton and textile companies agreeing to bring the Seal of Cotton trademark to Indian consumers. The long-term goal in the Indian market for the Cotton Gold Alliance program is to increase the demand for cotton among Indian consumers and, in turn, benefit the entire global cotton industry. The Cotton Gold Alliance will ensure that alliance partners are recognized as market leaders for their high-quality cotton textile products, and their members will encourage utilization of the Seal of Cotton in promotions and advertisements.
"Cotton has dominated other fibers in India and the Indian consumers have a strong preference for it," Dean B. Turner, senior vice president of Cotton Incorporated said.
"Today, more than ever, consumers demand value and quality in the apparel and home fashions they buy," J. Berrye Worsham, president and CEO of Cotton Incorporated said. "The Seal of Cotton enhances the fact that the 100 percent cotton products they purchase will meet those expectations. Each impression made reinforces consumer recognition of cotton apparel and home textiles and positively impacts the overall demand for cotton and its products."