By Sinclaire Dobelbower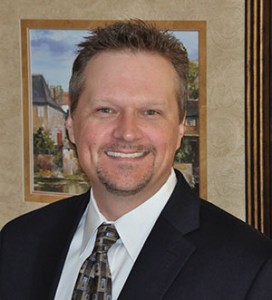 Growing up surrounded by agriculture and developing a passion for technology at a young age prepared Mark Pryor for the role of CEO of The Seam. Pryor was named CEO in August 2015 after working several years with the company in multiple positions. The Seam was founded in December 2000 by PCCA and other leading global agribusiness companies to become the world's first completely online, neutral exchange for cotton trading. PCCA's TELCOT system served as the foundation upon which The Seam was built.
Pryor grew up three miles south of Memphis in Southaven, Miss. Growing up, Pryor said his family always appreciated and respected the agriculture industries with some of their close family-friends in the business and being surrounded by agriculture.
"My two brothers and I attended elementary school in Walls, Miss., which was surrounded by cotton fields as far as you could see," Pryor said. "I can remember sitting in class and hearing the crop dusters buzz the top of the school for the nearby fields."
Pryor now lives in Somerville, Tenn., a small farming community about 45 miles east of Memphis. He said his home borders a cattle farm, a cotton farm and horse pastures. Pryor said he comes from a long line of carpenters and craftsman and enjoyed watching his father and grandfather design and build objects out of wood.
"While I had an immense desire to create things," Pryor said, "my hammer never quite hit the nail when building items out of wood." When the Apple II computer made its appearance in the marketplace and in schools, Pryor said he quickly became immersed in technology and software development.
"I could finally build something and not worry about hitting my thumb!" Pryor said. "They say 'the rest is history', but in many ways I think we were just getting started."
Pryor went on to study computer science at Northwest College in Mississippi and also at State Technical Institute in Memphis.
Before joining The Seam, Pryor's career was in the banking industry; specifically, financial technology and software. He held several hands-on and management roles including software development, technical support, quality assurance, sales and marketing. He said this phase of his career provided important building blocks with first-hand experience in the primary areas of a financial technology company.
While in this position, Pryor said he and his team were able to develop some of the first Internet home banking products as well as a touch-screen product in bank lobbies, at UCLA, and Johns Hopkins in Maryland.
"At that time, the Internet was in its infancy and Google did not exist yet," Pryor said. "Over 500,000 households were using the product a year later. Mainstream touch-screen devices did not really exist until the iPhone was released in 2007, so looking back, it was really extraordinary."
Pryor first joined The Seam in 2000 which he said was also his first professional exposure to the agriculture industry. His initial role was in directing software development and later advanced into the Vice President of Information Technology role which he held through 2011.
Pryor said there are numerous highlights from working at The Seam in his previous roles, particularly involving directing the design, architecture and implementation for the core, underlying technology that drives the business today.
"This technology has allowed The Seam to successfully clear billions in commodity transactions for hundreds of companies around the globe," Pryor said. "The same underlying technology has allowed The Seam to service multiple agricultural commodity products and entirely new industries altogether."
The Seam has changed and adapted over the years to meet the needs of the market, but as Pryor said, the only thing constant in life is change, and sometimes change can be a challenge. Some challenges include keeping up with the supply and demand of cotton as a whole, keeping current with new technological advances, and extending The Seam's reach globally and into additional commodity markets and technologies.
"When The Seam opened its doors, the biggest challenge was convincing businesses to steer away from their old way of trading cotton toward a more efficient, real-time marketplace," Pryor said. "With the razor-thin margins, the ever-increasing need for efficiency, coupled with 'soon-to-be-released' trading innovations, we have an opportunity to face the challenge head on."
Pryor said he has great visions for the future of the company, including extending their reach further into the supply chain, into other commodities, beyond U.S. boundaries, into agribusiness IT departments, and delving into more devices and platforms.
"The Seam has a rock-solid reputation in providing business-driven technology and trading solutions," Pryor said. "While our trusted brand and reputation is well earned and respected, it is also critical to our next move in the marketplace."
Outside of work, Pryor said he enjoys being outdoors hunting or fishing, especially when accompanied by family and friends. He said he is married to his best friend, Brenda, who is a schoolteacher and also a data conversion programmer in the banking industry. They have three adult children who continue to make them proud every day. Their daughter Rebecca, 25, is a schoolteacher, married and lives near Seattle with her husband, JP, who is active duty U.S. military. Their son Scott, 23, is in the Mississippi Army National Guard and lives in Memphis, Tenn., and works in the banking industry. Their youngest, Lauren, 21, is a junior and full-time student at Harding University in Searcy, Arkansas. Pryor said she occasionally runs into the Duck Dynasty family there but has yet to bring him an autographed duck call.
Another hobby of Pryor's is running marathons. He has run in about 15 marathons including The Boston Marathon in 2009 and 2010. He said his youngest daughter is following in his footsteps of being a runner as well.
"My daughter, Lauren, has taken up the sport and is challenging me for a comeback," Pryor said. "I guess I'll be dusting off my sneakers."