By John Jonhson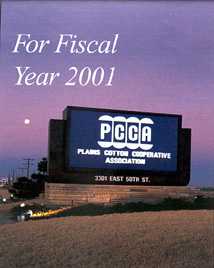 Not since 1985 has Plains Cotton Cooperative Association (PCCA) reported an overall net loss at year-end, but fiscal year 2001 will break the long-running streak. Although the cooperative's annual, independent audit is just beginning, the outcome is certain, and management is finalizing a plan to allocate the losses.
Heavy abandonment of 2000-crop cotton acres at harvest in West Texas and Oklahoma resulted in significantly lower volume for PCCA's Marketing Division and its first net loss in 13 years. The greatest loss, however, occurred in PCCA's Textile Division.
The flood of cheap, imported, Asian-made apparel continued during fiscal 2001 and sent Mission Valley Fabrics' operating loss to the highest level since PCCA acquired the facility in 1998. Although the American Cotton Growers operation will post net margins for the fiscal year, they are far less than the Mission Valley loss due to a soft, domestic denim market. Obviously, the result is an overall operating loss for the division.
PCCA's Board of Directors in June tentatively approved a plan to allocate all losses rather than carry them forward into future fiscal years. The plan will be finalized and approved upon completion of the annual audit in August.
Marketing Division losses will be charged against PCCA's unallocated reserve. The reserve, totaling approximately $7.5 million, is an accumulation of funds from non-patronage net income, including retained earnings from a Domestic International Sales Corporation (DISC) shut down many years ago.
The Textile Division operating loss will be written off against the book credits of active members (those who delivered cotton during the past two years) with current mill option agreements for the 2000 crop. This action will generate a tax deduction in the amount of the write down for those members, according to Sam Hill, PCCA's vice president of finance. Per-unit capital retains will not be affected.
Expenses related to the conversion of Mission Valley Fabrics to a denim operation also will be included in the plan. Those expenses, like the Marketing Division loss, will be charged against the unallocated reserve.
"With this plan, we can put the disappointment of fiscal year 2001 behind us and begin the new fiscal year with a clean slate," PCCA President and CEO Van May told the board and delegate body in June.